Quincy Brown Shares Cute Photo With Baby Sister Love
Love Combs is 11-months-old.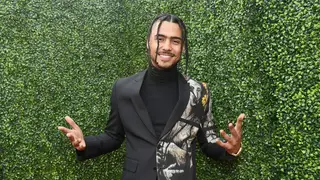 One thing for certain, and two things for sure: Diddy's kids love each other.
Earlier this week, Quincy Brown took an adorable selfie with the newest member of the family, Love Sean Combs. The moment was too sweet to keep in the camera roll on his phone, so he shared the precious snap with his 4.6 million followers on Instagram, as reported by PEOPLE.
"LQVE 💜," he captioned the post.
In the photo, the Bad Boy founder's eldest and youngest kids are captured looking all cute, and we are totally in our feels.
The big brother's eyes gleam with joy as he holds his baby sister while she stares at the camera lens like a boss-in-the-making.
They are also on the winning team in the jewelry department. While the Star alum sports a silver Cuban link necklace, the little one rocks a gold Cuban link bracelet with a white bow in her curly mane and sleeveless sweater.
Love was born in October 2022 to the Grammy-winning hitmaker and Dana Tran.
For Brown, spending time with his family appears to be his most prized activity. Last month, he had a fun outing with his 16-year-old twin sisters, D'Lila Star and Jessie James. While sitting in the passenger seat of a truck, he quipped, "I don't mean to be the super, big brother dad, but this is nuts. I might record the whole ride."
Another video from their fun "big brother big sister date" included them cruising down a Los Angeles highway en route to his "favorite place," which he dared not share.
Diddy is Brown's adoptive parent, who was born to Al B. Sure! and Kim Porter, who died of pneumonia in 2018.
Along with Love, Brown, D'Lila, and Jessie, Diddy is also father to daughter Chance, 17, and sons King, 25, and Justin Dior, 29.