'Aquaman' Star Jason Momoa Was Involved In a Minor Wreck With Motorcyclist, Reports Share He's 'Fine'
The motorcyclist involved sustained minor injuries.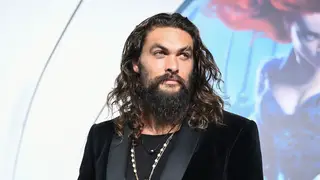 Actor Jason Momoa was involved in an accident with a motorcycle, and TMZ has obtained footage of the aftermath. The publication reported no major injuries occurred.
Law enforcement shared with the publication the 42-year-old was traveling on Old Topanga Canyon Road Sunday out near the Calabasas area. During his drive, a biker traveling in the opposite direction made contact with him while coming around a curve, causing a collision. The motorcyclist crossed into Momoa's lane and hit the left front end of his Oldsmobile muscle car — briefly flying off and landing on his feet.
The rider was transported to the hospital and only sustained minor injuries including bruising to his leg and an injury to his thumb. The Aquaman actor sustained no injuries according to reports.