DOJ Files Proposal In Federal Court To Install Third Party Manager For Jackson, Miss. Water System
Residents of the majority Black city have suffered decades of unsafe drinking water.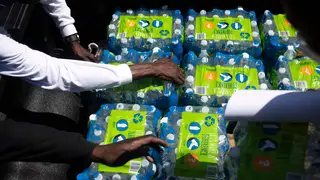 The U.S. Department of Justice announced that it has taken legal actions to fix Jackson, Mississippi's decrepit public water system that has plagued the majority Black city for generations.
On Tuesday (Nov. 29) the DOJ filed two documents in the federal courts. The department filed a complaint on behalf of the Environmental Protection Agency alleging that Jackson violated the Safe Drinking Water Act by failing to provide reliably safe water to its residents.
DOJ officials also filed a proposal with the court to appoint a temporary third-party manager to oversee the stabilizing and improving of the capital city's water system. Jackson and Mississippi's Department of Health agreed to the terms of the order.
"Today the Justice Department is taking action in federal court to address long-standing failures in the city of Jackson's public drinking water system," said Attorney General Merrick B. Garland.
"The Department of Justice takes seriously its responsibility to keep the American people safe and to protect their civil rights. Together with our partners at EPA, we will continue to seek justice for the residents of Jackson, Mississippi. And we will continue to prioritize cases in the communities most burdened by environmental harm," Garland continued.
The proposal represents an attempt to negotiate an enforceable consent decree toward a long-term fix of the water water system and Jackson's compliance with federal water safety rules.
Under the proposal, a court-appointed interim manager would have the authority to operate and maintain Jackson's water system, oversee the city's troublesome water billing system, and implement capital improvements to the system.
Jackson residents were already under a state-issued boil-water notice for more than a month when excessive rainfall and flooding further damaged the city's water system, prompting officials to declare a state of emergency on Aug. 30.
It plunged the city further into a crisis, as city and state officials scrambled to fix the problem at the water treatment plant. Residents didn't have safe drinking water at home or the water pressure was so low that they couldn't bathe, cook and flush toilets.
The water pressure was not restored until Sept. 6, and the boil-water notice remained in effect until Sept. 15.
Jackson's population is about 83 percent Black. For decades, city officials couldn't afford to make timely repairs to the water system as the tax base eroded from white flight to the suburbs when public school integration started in 1970, and state and federal spending failed to make up the difference. About percent of the current residents live in poverty. Lumumba estimated that it will cost billions to fix the system.