NAACP Image Awards Congratulates Sonya Young Aadam As This Year's 'Unsung Heroes' Honoree
Metamucil is honoring a woman who has dedicated her life to the betterment of others.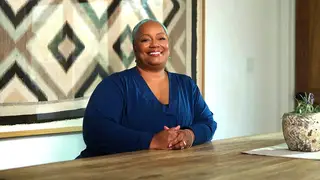 The term "unsung heroes" refers to people who make significant contributions to society or perform extraordinary acts, but do not receive widespread recognition for their efforts. These individuals may work quietly behind the scenes or in less visible roles, but their contributions are crucial to the success of a particular project or mission. This year, Metamucil and the NAACP are presenting the "Unsung Heroes Award" to Sonya Young Aadam, a Black woman who is the epitome of those who work tirelessly to help others and who go above and beyond their job responsibilities and sacrifice their own interests for the greater good.
For almost seven years, Aadam served as the Chief Executive Officer of the California Black Women's Health Project. Aadam, who had a history of working in financial and strategic analysis at top corporations, decided to make a career change. She shifted her efforts to support community empowerment and engagement through transformative intervention in under-resourced urban communities, particularly in South Los Angeles, where she was born and raised.
The California Black Women's Health Project is an organization that is driven by its partners and works in regions of the state that have the highest population of Black women and girls. These regions include the counties of Los Angeles, Alameda, and Sacramento, as well as the Central Valley and the Inland Empire. The organization focuses on advocacy, outreach, policy, and education. These efforts are to build the Black community's capacity to address disparities in the provision of and access to healthcare knowledge and navigate healthcare systems. The goal of Aadam's organization is to increase the number of people in the Black community who can address these issues. Also, she aims to improve the health and well-being of Black communities with a specific focus on Black women and girls.
Aadam is an exceptional example of not only Black excellence but an unsung hero who has used her talents, her expertise, and her passion to bring about positive change in the communities in which she lives. The partnership formed between Metamucil and the NAACP to honor Aadam is an example of a commitment to celebrate those who are change agents in our lives and who strive toward creating a world that is more equitable for us all.
Congratulations to Sonya Young Aadam as we celebrate her accomplishments and the other honorees recognized during this year's NAACP Image Awards.
WATCH THE 54TH NAACP IMAGE AWARDS LIVE SATURDAY, FEBRUARY 25TH AT 8:00 PM ET/PT ON BET.