Black Music Month: Ten Of The Best Soundtrack Songs From The 1990s
From Jay Z to Whitney to Mary, these classics gave your favorite movies some extra soul.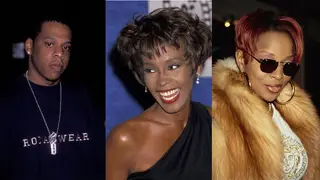 Soundtrack albums are a thing of the past that only a few can appreciate. It used to be that influential films came fitted with powerful music to match. Actors told the story on screen and musicians offered their version of the tale on wax. No era spoke to the success of movie soundtrack albums like the 1990s. We can't talk about epic films like The Bodyguard, Boomerang and Waiting To Exhale without conjuring up memories of the music featured in the film. In honor of Black Music Month, we look back at some of the best soundtrack hits from the good old days of the 1990s.
Waiting to Exhale: "Not Gon Cry," Mary J. Blige

Like the film, the 1996 soundtrack to Waiting to Exhale boasted a star-studded lineup that helped make it one of the most successful albums of the decade. The project topped the Billboard charts and sold over 5 million copies due in larger part to this quintessential Mary J. Blige song. A liberating anthem for women in long-suffering relationships, the single received a Grammy nod, reaching No. 2 on Billboard's Hot 100 chart.

The Bodyguard - "I Will Always Love You," Whitney Houston

Ask how The Bodyguard soundtrack became one of the best-selling albums of all time; look no further than this Whitney Houston song. A cover of Dolly Parton's 1974 country smash, Whitney made the song her own with an icon-making performance for the ages. The song was one of the many chart-topping singles from the diamond-selling project. 

Love Jones: "The Sweetest Thing," Refugees Camp All-Star Featuring Lauryn Hill

A favorite love story was made sweeter by the intoxicating strumming and tender vocal delivery of Lauryn Hill on this track. And it's not only melodious and poetic like the movie, it also has a bit of boom bap for a wonderful anthem about love.

Boomerang: "Love Shoulda Brought You Home," Toni Braxton

Remember when Halle Berry told Eddie Murphy, "love shoulda brought your a-- home last night"? The line ended up introducing another pixie-cut beauty, Toni Braxton, who made a song of it. It was her first solo single, her first Top 40 hit, and it placed on the Boomerang soundtrack and made it to her debut album one year later.

Set It Off: "Don't Let Go (Love)," En Vogue

Like the cast of Set It Off, it took a fearless foursome to create this song. It became En Vogue's biggest hit ever, peaking at No. 2 on Billboard, reaching the Top 10 in several international markets and selling more than a million units. It also marked a shift in their career as Dawn Robinson afterward ventured on a solo escapade.

The Wood: "I Wanna Know," Joe

One of Joe's most successful singles was from the soundtrack for the romantic comedy The Wood. It won him an ASCAP Award for Most Performed Songs from Motion Pictures. It also landed as the lead single for his triple-platinum third album, My Name Is Joe.

Above the Rim: "Regulate," Warren G Featuring Nate Dogg

"Regulators! Mount up!" Warren G's 1994 single was the breakout hit from Above the Rim, and a career-changing effort for the Long Beach, Cali native. Nearly 30 years later, it's not uncommon to hear "Regulator" on rotation in the clubs.

The Players Club: "We Be Clubbin,'" Ice Cube

Lisa Raye's striptease wasn't the only good thing to come out of The Players Club, Ice Cube's "We Be Clubin'" turned into an anthem of sorts. Granted, the single wasn't a huge commercial success but Cube's take on a night in the club is second to none.

Bulworth: "Ghetto Superstar" Pras Featuring Mya & ODB

Motivating lyrics were the name of the game on Pras' debut single, featuring Mya and ODB. Pras' solo run alone wasn't without assistance from the Fugees. Former group member Wyclef Jean knocked out production duties for 1998's "Ghetto Superstar."

Rush Hour: "Can I Get A…" Jay Z Featuring Ja Rule

Jay Z lent his musical expertise to the soundtrack of the 1998 film Rush Hour. "Can I Get A..." also featured young Queens MC Ja Rule and former Roc-A-Fella first lady Amil.