Kanye West Finally Reveals Questionable Haircut
He was last spotted in Miami Beach at Prime 112.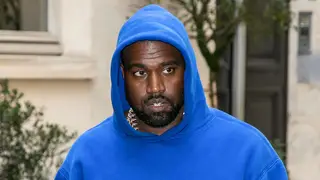 Kanye West has officially revealed his bizarre buzzcut after wearing an equally crazy disguise, which covered the majority of his face.
Stepping out to grab a bite to eat for lunch at Prime 112 in Miami Beach, Ye was seen with his shaggy haircut, according to the Daily Mail. Avoiding the paparazzi, Ye faced away from the camera to show off his unique style, donning an electric green T-shirt, a heavy black leather bomber jacket, black boots, and a silver chain with his son Saint's name, spelled out in Gothic lettering.
Prior to his pop-up at the boutique steakhouse in South Beach Miami, Ye headed over to his Instagram page to show off the back of his head with his new cut. Fans had an overwhelming reaction to his new look including making jokes on what happened.
Page Six reports that Ye was seen wearing two versions of a mask in New York City and Italy. His mask in the Big Apple appeared to be of a Caucasian woman, while his mask in Italy was a pale greenish-blue color with eye cutouts.
BET previously reported that Los Angeles Superior Court Judge Michelle Williams Court approved West's name change, which is now legally just Ye from Kanye Omari West. He was also recently seen out with Kim Kardashian-West, as the two have been rumored to be "quietly" working out their marriage.