Commentary: Where's the Media Coverage for the Missing Nigerian Girls?
Donald Sterling's racism isn't the only story we need to get turnt up about.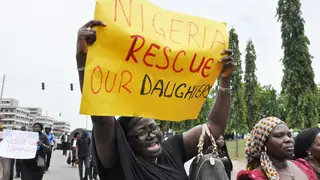 According to early reports from British outlets such as BBC and The Guardian, on April 14, it's believed that members from the Boko Haram, an extremist Islamic group, broke into the school while the girls were taking a test, killed two guards and took 234 girls, driving them off in armored trucks. Some girls, between 30-50, managed to escape.
It's unclear where they are. Some reports claim that the teenage girls have been sold off into marriage. Sadly, the Nigerian government has done very little, which has led to crowds of women taking to the streets protesting in order to pressure the government to get their girls back.
But with a story of this magnitude, why didn't we know about it sooner?
But how, in a post 9/11 world, can a story about terrorism, Islamic extremists and kidnapping be so easily ignored for so long?
It's almost unfathomable, until you remember that American news routinely ignores its own Black women who are murdered and/or go missing. And while the devaluation of Black women on a global level has a lot to do with why this story was disregarded for so long, we also have to remember that if it wasn't for Twitter and a few brave journalists who spoke out, our media would have easily gotten away with ignoring Trayvon Martin's murder, too.
Black people, who are not entertainers, athletes or high-profile politicians, barely matter to many mainstream outlets. Period.
Now, had these 234 girls been white, Christian and from Oklahoma and were snatched on a trip to Nigeria, MSNBC would have been as obsessed as they were about New Jersey Governor Chris Christie's Bridge-gate. And Fox News? Well Megyn Kelly, Bill O'Reilly and Sean Hannity would have all imploded.
But this is par for the course. 
In staff meetings made of mostly white people, top level editors and producers make daily decisions on what they believe we should care about. The news we consume isn't always based on a moral obligation to provide us what we have the right to know and what we ought to know, but more about meeting the needs of advertisers and increasing click throughs.
And while it's easy (and necessary) to point the finger at mainstream media, Black media and journalists like myself are not exempt from this critique. Too many of us missed the boat on this story, too. Clearly this speaks to a need to be more aware of the Black experience on a global sense and to not allow ourselves to rely on mainstream media's cues to assure us what's news and what's not.
In the end, I hope the U.S. media learn from this embarrassing and racist oversight and somehow can recognize that all lives matter. It's just too bad that once again, these lessons of compassion and ethics have to come from Black pain and suffering.
The opinions expressed here do not necessarily reflect those of BET Networks.
BET Global News - Your source for Black news from around the world, including international politics, health and human rights, the latest celebrity news and more. Click here to subscribe to our newsletter.  

(Photo: AP Photo/ Gbemiga Olamikan)