Trans Day of Remembrance: Activist Raquel Willis Reminds Us That All Black Lives Matter
Here's what you can learn and do to bring about fundemental change and acceptance.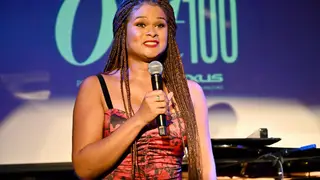 The transgender community has long fought two simultaneous battles: acceptance of trans identity and protection against violence. That has a particular effect among Black and Brown trans people. According to the Human Rights Campaign, in 2020 at least 25 trans people have died violently, 14 of them were Black. For 21 years, activists have observed and promoted Trans Day of Remembrance, which was started by transgender advocate Gwendolyn Ann Smith in honor of Rita Hester, a Black transwoman killed in 1998.
Raquel Willis, who is Director of Communications for the Ms. Foundation for Women and has served as executive editor of Out magazine and national organizer for the Transgender Law Center says much more work needs to be done as far as getting society to understand trans identity and where that meets Black identity. She spoke to BET.com about those nuances and where things stand now.
BET.com: What should Trans Day of Remembrance signify to people who are outside of the trans community? What can cisgender people learn from this day?
Raquel Willis: Trans Day of Remembrance is an important annual observance. It is not even just a national observance, it's really an international day because anti-trans violence doesn't just exist in the United States, but it exists in other places around the world. What I would want people to understand is that people need to interrogate the restrictions that we have around identity expression and particularly around gender in our society long beyond [Trans Day of Remembrance]. We have to figure out new ways to affirm the complexity of our experiences.
When trans people experience discrimination or violence, it's not just happening isolated from the gendered expectations we have for all people. So all the cisgender men and women who don't understand why they should be paying attention to what's happening to the trans community need to understand that every time they have been policed around what they can wear, what their interests can be, what they are capable of, that is tied to the same spectrum of violence based on gender.
BET.com: For Black transwomen, there are still many challenges when it comes to violent attacks. Why do you believe this particular group continues to be targeted?
Willis: What's important to understand is that when your experience is on the margins in any way, you're open to attack. So obviously being a Black person, we know puts a target on your back in a white supremacist society where the idea of American life hinges on a white imagination. Similarly when you think about what it means to be human oftentimes centers on a male imagination. A lot of the narrative has been told from the perspective of men and boys, obviously ignoring the experience of women and girls.
RELATED: Today Is World Transgender Day Of Remembrance Within A Year 331 Trans People Were Murdered
And of course, being trans, the dominant lens is one in which people have a more stereotypical experience with gender, still completely affirmed by many of the expectations around who they're supposed to be based on what they were assigned at birth. So if you grew up being told you're a boy and you fall completely in line with that experience, then your narrative is seen as the dominant narrative. If you grew up being told you were something you didn't identify with, we haven't had enough awareness of understanding of what that feels like, what that means and why a rigid society doesn't serve any of us.
BET.com: You have a long resume, from leadership positions at Out magazine to the Transgender Law Center, and now the Ms. Foundation for Women. How would you describe your activism these days?
Willis: For me, a commitment to social justice is a lifelong experience, so whatever I touch comes from a desire to see a better world for all of us to express ourselves fully. I'm constantly in conversations with leaders from the various movements to make the spaces more receptive of the Black trans experience. For me, it's all about elevating dignity and honor of Black trans folks and whatever I can do in the media, through writing, through other types of projects to expand the narrative of the Black trans experience is what I'm invested in.
BET.com: We're exiting a presidency where a lot of bigoted people have been emboldened. Unfortunately, none of that is going away overnight. How does the Black trans community push forward as we get into the 2020s?
Willis: The trans community will continue to push forward as it always has. It's not that there has been a lack of work and effort put into shifting harmful dynamics in our society throughout time. It's just that for so long, many of us lacked the access and the platforming to discuss what was happening.

Black trans people are organizing and leading efforts all across the world and particularly all across the United States, from San Francisco to Atlanta, to New York, to the Midwest. You're more than likely going to be able to find a Black trans led organization or initiative that you could donate to volunteer with, or simply elevate. A lot of times when we talk about how Black lives matter, we leave out the fact that there are many different ways of being Black and we have to have a whole menu of options to target the violence that is happening in our community.
RELATED: EXCLUSIVE: The Black Transgender Community Speaks Out Against Trump's Military Ban
BET.com: There's a lot of trans youth who are still afraid these days to be open with their identities, particularly in an age of COVID-19. What are some of the resources they can use to feel safe?
Willis: It's very tricky right now. A lot of times our origin families don't have the language, the tools, or even necessarily the desire to learn more about what it means to be trans so they can best support us. Oftentimes the way that we alleviate that issue is by finding support outside of the home. But there are more resources than ever before on the internet now to learn, read up and dialogue with other trans people online. Folks are doing that on social media every second. There are definitely hotlines that people can call, particularly if they're in a moment of crisis.

I think about the Trans Lifeline and how important that is to people in the community and also the Trevor Project. I think it's a difficult time, but I do think that one of the most important things that the Black community writ large, could do -- and this would start with our leaders -- would be figuring out ways to be receptive to expanding public and political education on the complexity of identity. We have to have a massive allocation of time, energy and resources into expanding what it means to be Black. We don't talk enough about what it means to be a trans person and being Black and we really need to do that because we shouldn't have to leave our origin families to find support. We should be able to have support all around.
BET.com: Generally speaking, what can we all do to better connect with trans people and become better allies?
Willis: Non-trans people need to read and learn a little bit more about trans experiences first and foremost, which means understanding basic terminology. I think a lot of times so much of the energy is sucked out of the dialogue we could be having between cisgender and transgender people beause there isn't a willingness to do basic research or learning on the topic at hand. It's like anything else, if you can spend time researching what happened in the latest sports event or you can research all of these different elements in whatever type of work that you do. You've got to do that research on trans experiences if you're actually trying to be invested in being a good ally.
Then it's about learning about our history and not taking these widespread assumptions at face value. Black trans people have always been here. We may not have always called ourselves trans. We may not have always expressed ourselves or had the access to express ourselves socially and politically, but that doesn't mean that we just came out of thin air.

There's a long, rich history of Black trans and gender nonconforming resistance and resilience, particularly here in the United States and it will behoove folks to do that work of learning about our history.