Lil Durk Meets With Chicago Mayor-Elect Brandon Johnson In Effort To Save Kids' Lives
The Windy City rapper says it has nothing to do with album promotion.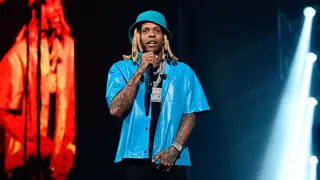 Lil Durk is making an effort to better his hometown.
On Monday (May 8), DJ Akademiks shared a photo of the Chicago rapper meeting with Mayor-elect Brandon Johnson. In a comment on a picture of the two men speaking with one another, Durk wrote, "It ain't album promo it's saving kids lives."
Initially, fans in the comments believed Durk was trying to bring attention to his new album Almost Healed, which drops Friday (May 12).
Earlier this year, Durk spoke with XXL and explained that one of his biggest current goals in life is "growth."
"That's what the 2.0 stand for, just be on another level. Just not only music-wise, like the things around me like I told you, growing from the friends around me, management," he said of the project back when the running title was The Voice 2.0.
"Sitting with the mayor. We doin' big charity things. Neighborhood Heroes, the foundation I got. So, we just doing different things, 'cause if you say you The Voice, it's like, OK, you The Voice of the Streets, so what happened? What you do? I did this, this, cool. OK, now what you do for the kids? Nah'm sayin'? So, now we just breaking it down. So, we doing this, we doing this, we doing this. Not only on Thanksgiving, not only on Christmas, just on a regular basis, helping people."