Young Thug Says There Will Be Two Brides at His Wedding
This guy really likes dresses.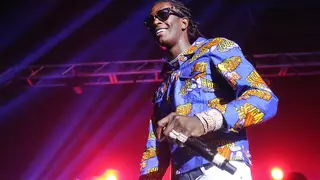 Young Thug's been known to wear dresses. It's been part of his fashion wardrobe since we've known him so when it comes to his wedding plans, things are going to be less than traditional.
In an interview with Billboard, the Atlanta rapper said, "there will be two brides," at his future wedding, whether it be to Jerrika Karlae or not. At first look, you may be thinking that Thugger means that he's actually going to be a bride. What he really means though is that he, like his future wife, will also be wearing a dress while walking down the isle.
Further expanding on where he got his zeal for dresses, Thug says his gender fluid fashion inspiration came at a young age. "When I was 12, my feet were so small I wore my sisters' glitter shoes," he recalled. "My dad would whoop me: 'You're not going to school now, you'll embarrass us!' But I never gave a f**k what people think… When it comes to swag there's no gender involved."
Young Thug is world-renowned for his fashion sense. He's become the face of numerous reputable brands including Puma and Calvin Klein. Thugga's even been a mentor on season 7 of the TV show VFILES Runway.
Read the full Billboard interview with Young Thug here.