Lauren London Admits She and Jonah Hill May Not Be the Most Believable Couple in 'You People'
The L.A. native said that the characters ultimately resonated with her and with life in her beloved hometown.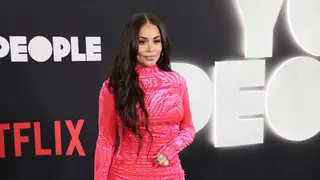 The new Netflix movie, "You People," written and directed by Kenya Barris, has had fans laughing since it dropped last Friday (Jan. 27), but the on-screen chemistry between co-stars and on-screen love interests—Jonah Hill and Lauren London falls flat for some fans.
Per People, London told Harper's Bazaar that she was initially concerned about what would make the romance between the two characters believable.
"Why would these two people really like each other?" she recalled asking Barris about Hill—who was the co-writer of the film, which also stars Nia Long and Eddie Murphy.
"They're from two totally different worlds, and if you see them, you would never think that they would meet or hang out, whatever the case is," she said. "It was a conversation on connecting with people genuinely and going for the soul connection."
She noted that the film and the characters resonated with her because her mother is Black and her father is Jewish—she said that her parents divorced when she was young, and she learned things about the Jewish faith on the set of "You People."
"I just grew up with my mother in my household. I didn't grow up with my dad living with us. My parents divorced when I was really young. I was three, so my experience is of my mother's experience, because I just grew up with a single black mom."
"What felt personal was shooting in L.A.," she added. "And some of those areas that we shot in and some of the places that we shot in. I liked that they were Jewish 'cause it was also some stuff that I got to learn via being in the movie that I didn't know."
London noted that she and Hill actually have a lot in common. "I'm a Black woman; he's a white man," she said before discussing what drew them together. "We actually have a lot in common in our lives — some of our experiences and some of the ways we look at life and some of the ways we've taken life in," she told Harper's Bazaar. "And also, growing up in L.A., though we grew up in different areas… We're both L.A. kids from the same era."
London previously told InStyle that she gave input into her character, Amira's, wardrobe down to her nameplate necklace and bamboo style, paying homage to her life growing up in L.A.
She also shared some insight into her personal beliefs about love.
"What does true love look like to me?" she asks. "I think integrity and a relationship with the divine, a relationship with self, honor, community, and peace. Protection. I think true love could be your relationship with God, or even your relationship with yourself."
"You People" is streaming now on Netflix.