New Calif. Sen. Laphonza Butler Says She Will Not Run To Replace Dianne Feinstein
A crowded candidate field is vying for the coveted senate seat.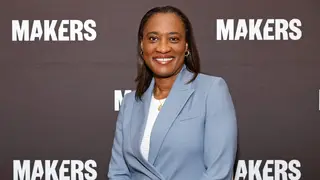 There's more clarity in California's senate race to fill the seat of longtime Democratic Sen. Dianne Feinstein, who died in office recently.
Newly appointed Sen. Laphonza Butler, a labor leader and activist who has never run for political office, announced Thursday that she would not compete for a full Senate term in 2024, The Los Angeles Times reports.
Her announcement ends weeks of speculation about whether she would join a crowded candidate field that includes prominent fellow Democrats. Even if Butler tried to leverage her new Senate post, she would have faced several obstacles to winning the election.
"Knowing you can win a campaign doesn't always mean you should run a campaign. I know this will be a surprise to many because traditionally we don't see those who have power let it go. It may not be the decision people expected but it's the right one for me," Butler said in a statement, according to The Times.
U.S. Representatives Adam Schiff and Katie Porter topped a September Berkely IGS poll of more than two dozen candidates in the 2024 Senate election. Schiff, a Burbank Democrat, had 20 percent, and Irvine Democrat Porter placed second with 17 percent. Rep. Barbara Lee was a distant third with 7 percent.
History is one obstacle in Butler's way. Cal State Long Beach political science professor Matt Lesenyie told The Times that appointed senators rarely win when they run for their seat.
"If you haven't won an election before, it's very hard," Lesenyie explained. "That's no knock on her skills personally — it speaks to the difficulty of being a newcomer and beating experienced politicians."
Butler also lacks name recognition among California voters and has a significant fundraising disadvantage. Schiff's had $32 million on hand in his political war chest, and Porter had $12 million in their recent report.
Newsom fulfilled his promise earlier this month when he appointed Butler to serve the remainder of Feinstein's term.