Black Women In Politics Tweet Their Support For Kamala Harris Following VP Announcement
Joe Biden has selected the Cali senator to be his running mate.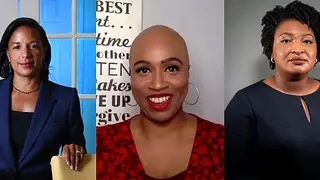 Kamala Harris made history today by becoming the first Black and South Asian woman to run as vice president on a major party ticket, and Joe Biden made good on his promise to select a woman for the role. Tweets of support are pouring in for the California senator, including many from Black women in politics.
A group of Black women leaders, including activists and elected officials, also issued a statement in support of Harris: "We come together as Black women leaders to congratulate Joe Biden on his historic selection of Senator Kamala to be his Vice Presidential running mate. We are also deeply honored to congratulate Kamala Harris on your groundbreaking candidacy to become the 49th Vice President of the United States," the statement reads.
It continues, "Today, we stand on the shoulders of our ancestors, pioneers such as Sojourner Truth, Shirley Chisholm, Barbara Jordan and countless Black women who have sacrificed and worked tirelessly for this historic moment. We honor their wisdom, hard work and talent that has contributed to so much of our country's progress. They are watching as Democratic Presidential nominee Joe Biden and Vice Presidential nominee Kamala Harris, write a new entry into the history of Black women in America."
Here's what these elected officials, including a number of whom were in the running for the veep position, have to say about this historic moment:
SUSAN RICE

KAREN BASS

STACEY ABRAMS

KEISHA LANCE BOTTOMS

MARCIA L. FUDGE

EMILIA SYKES

AYANNA PRESSLEY

SHEILA JACKSON LEE