Vince Staples Lands Scripted Comedy Series At Netflix
The scripted comedy series is based on the Long Beach rapper's upbringing.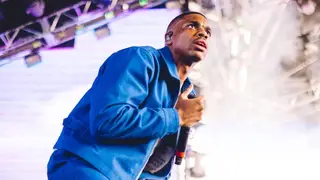 Vince Staples is a multi talented artist and personality, so it's no surprise that he'd be the subject of his own show.
According to Variety, The Vince Staples Show is a fictional Netflix series that is loosely based on the rapper's upbringing in Long Beach, California. It is also separate from the web series of the same name he launched in 2019.
"I am excited to partner with Netflix and Kenya Barris on The Vince Staples Show," the rapper shared in a statement with the news outlet. "This has been something I have been developing for some time and I am happy it's coming to fruition."
Kenya Barris is reportedly co-executive producing the project alongside Staples and Ian Edelman, Maurice Williams, Corey Smyth and Calmatic. Barris has also been tapped to act in the series.
"It's our mission to work with the best artists in the world," Tracey Pakosta, Netflix's head of comedy, said in a statement with Variety. "Vince has already established himself as one of the most talented young musicians today and we're really excited about how his sensibility—and sense of humor—will translate into a unique comedy series."
Previously, Vince Staples acted in roles including for the 2015 movie Dope, the 2018 indie film Punk and voiced the character Vinz in the 2018 anime MFKZ. He also made a guest appearance on the HBO series Insecure as himself.