Florida Gov. DeSantis Defends State Curriculum's Claim Of Slavery 'Benefits'
'They dare to push propaganda to our children,' VP Kamala Harris said, blasting the situation.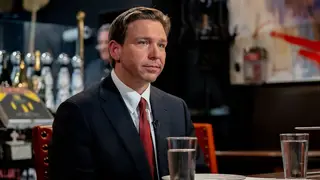 Florida Gov. Ron DeSantis doubled down on the state's new standards for teaching Black history in public schools despite the backlash from the Biden administration and Black leaders who say the curriculum is an attempt to whitewash the nation's racist history.
The Black History standards, which the state education department approved Wednesday (July 19), includes teaching students that slaves learned skills that "could be applied for their personal benefit" and highlights violence perpetrated "against and by" Black Americans.
"They're probably going to show some of the folks that eventually parlayed, you know, being a blacksmith into, into doing things later in life," DeSantis told reporters Friday (July 21) when asked about the new education standards.
DeSantis was speaking to a nearly all-White crowd of supporters when reporters questioned him about the controversy, according to The Washington Post. The 2024 presidential candidate claimed that he "wasn't involved" in creating the new teaching standards.
"The reality is, all of that is rooted in whatever is factual. They listed everything out. And if you have any questions about it, just ask the Department of Education. These were scholars who put that together. It was not anything that was done politically," DeSantis stated.
The Associated Press reports that Vice President Kamala Harris sharply criticized the new curriculum during a trip to Florida. "They dare to push propaganda to our children. This is the United States of America. We're not supposed to do that," Harris said Friday (July 21) in Jacksonville, adding that extremists want to "replace history with lies."
According to the NAACP, the new Black History education standards present a "sanitized and dishonest telling of Black history" when it suggests that slaves learned beneficial skills.
"The NAACP commends Vice President Harris and the Biden Administration for prioritizing the preservation and accurate teaching of our history," an NAACP statement reads. "Let's be clear - these hate-inspired policies are a cancer that, if not stopped, will spread throughout this nation, destroying hard-won victories and setting us back decades, if not centuries."
Florida's Black leaders have said the Black History teaching standards are part of DeSantis' larger agenda. The governor made headlines in January when the state's education department prohibited public high schools from offering Advanced Placement  African American Studies. These two moves align with rules he pushed through the GOP-controlled legislature, including  his  Stop W.O.K.E. Act that bans lessons in K-12 classrooms and colleges that could make (White) students feel guilty for racial oppression and prohibits topics like White privilege.
"Let's really dissect what he's saying here. He's saying that to be ripped away from your homelands and brought to another country against your will, or to be born into the atrocity of the dehumanizing institution that was slavery, that those horrors are some way, somehow outweighed by the benefit that you get a trade. Are you kidding me?" Florida State Rep. Fentrice Driskell, the first Black woman to become House Democratic Leader, told The Post.