Michigan Man Speaks Out After Spending 15 Years Behind Bars For A Murder He Did Not Commit
In 2007, C'Quan Hinton was arrested while in high school. Today is his first birthday as a free man since he was 17.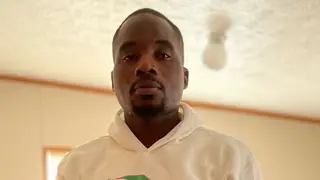 Today is C'Quan Hinton's 33rd birthday, his first as a free man since he was 17 years old.

In 2007, during his senior year of high school, Hinton was arrested while in school for a murder he did not commit in Flint, Mich., After 15 years of fighting for his freedom, he was released in September 2022 and exonerated in December 2022. On the eve of his 33rd birthday, I had the honor to talk with Hinton in his first interview since his long-overdue exoneration.
In my interview with Hinton on SiriusXM's The Clay Cane Show, Hinton said about being wrongfully accused of murder, "It was a slow death. I was 17… I already knew the life expectancy for a Black man was mid 60s. When you're 17, mid 60s, that's a long way away. I'm just thinking, I got to spend the rest of my life in prison for something I didn't do. And no matter how loud or vocal I was about, it just seemed like I wasn't being heard. It was just falling on deaf ears."
Hinton's nightmare began on October 9, 2007, in the Flint suburb of Burton, when 14-year-old Robert Person III tragically was shot to death on a street corner. According to the National Registry of Exonerations, seven days later, a 15-year-old named Jarylle Murphy showed up at the local police station and claimed he saw who killed Person.

The minor accused Kino Christian, Dartanion Edwards, Joshun Edwards, and Hinton of committing the crime. According to Hinton, in Murphy's description, he was described as being "light brown skin with light brown eyes," which is arguably the exact opposite of Hinton. Nonetheless, Murphy picked Hinton out of a photo lineup.
By the next month, all four were arrested and Hinton, 17 at the time who did not know Murphy, was taken into custody by police during his lunch period at Southwestern Academy High School. Hinton described his arrest as "embarrassing." He was ordered to the principal's office and confronted by detectives who, according to Hinton, said to him, "We got you now." His classmates watched as he was escorted out of school. A senior at the time, Hinton was supposed to graduate in five months.
"I can't see my mom, I can't go to prom," Hinton told me. "I can't get a license. I can't go to a bar. I want to have kids. The life I knew was just gone."
On top of witness testimony from a minor, another witness named Williams Harris claimed they were pressured by authorities to say Hinton and the three others were the killers. Harris said a sergeant told him, "I either would be a defendant or I would be a witness." He alleged a story was "concocted" by himself and the  sergeant. Additionally, DNA tests revealed the DNA of the accused was not found at the scene. Nonetheless, Hinton and his co-defendants were all convicted.
After 15 months of waiting for trial behind bars, on Feb. 17, 2009, one day after his 19th birthday, Hinton was found guilty of first-degree murder, assault with intent to murder, possession of a firearm during the commission of a felony, and carrying a concealed weapon. The next month, he was sentenced to life without parole. A March 2009 article from MLive.com described the moment of his sentencing with "loud sobs from his family broke out in the courtroom."
One family member shouted, "You'll be back."
Hinton spent endless hours in the prison library, not only reading law books but also dictionaries. "I read the dictionary for a year and a half," Hinton said. "And then I got into the law books… I just tried not to get caught up in the politics of prison. I wanted to stay focused."
After years of writing countless wrongful conviction organizations, lawyers at the University of Michigan Law School started working on his case in 2012. By July 2022, the Michigan Supreme Court threw out Hinton's conviction on a Brady violation, which is when the prosecution fails to provide the defense with evidence that could exonerate the defendant or reduce their sentence.

The court concluded that the testimony at the trial from 15-year-old Jarylle Murphy differed in "important ways" from his original statement to police, which was not revealed at the 2009 trial. The court wrote: "The transcript, which documented the first statement that Murphy gave to the police and the one closest in time to the crime, differed from Murphy's trial testimony."
Hinton was released in September and officially exonerated in December after prosecutors declined to put him on trial again. His co-defendants were eventually exonerated as well.
Hinton's birthday is bittersweet. He turned 33 as a free man, but the day after is also the anniversary of when he was convicted in 2009. While he is grateful to have walked out of prison in September, he adds, "Four and a half months don't wash away the last 15 years."
I have been covering wrongful convictions on my SiriusXM show for more than two years now. C'Quan Hinton is one of many heartbreaking stories that highlight the insidiousness of the criminal justice system, especially for Black men. According to a study by the National Registry of Exonerations, Black men are seven times more likely to be wrongfully convicted. Even worse, police, investigators, or prosecutors are rarely punished for wrongfully putting an innocent person behind bars – even a minor. Hinton expressed to me, "All four of us lost 15 years of our lives. We've been home almost five months. No one has been held accountable."
To this day, it's unknown who fatally shot 14-year-old Robert Person III on Oct. 9, 2007.
The State of Michigan has yet to compensate Hinton for his wrongful conviction. If you would like to donate to his GoFundMe page, click here. Watch his interview below:
The Clay Cane Show airs weekdays at 1 p.m. EST on SiriusXM's Urban View (Channel 126).