This Week In Good Black News: Naturi Naughton Reveals The Gender Of Her Baby, Fantasia Gets Snatched And Lil Durk Launches A Scholarship
Plus, Trai and Grace Byers welcome their first child.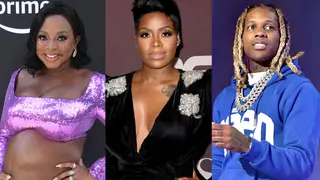 While it has been a crazy week in the news cycle, there is some positive news happening for Black folks that you may have missed. Lil Durk is giving back to his community, Naturi Naughton did an epic gender reveal, and Fantasia is inspired. Check out this week in good Black news.
Fantasia Shows Off Her New Look

Fantasia Barrino, 38, proudly showed off her slimmer curves on Instagram this week. On April 14, she posted a video showing eight months of hard work on her body and healthier living. She gave credit to celebrity trainer Sonya D. and said Angela Bassett was her inspiration, "It's women like Angela Bassett and more who inspires me to stay in the race." Barrino's transformation is not just physical, she has also enrolled at Central State University, a historically Black institution located in Ohio, to study business. See Fantasia's new look above.

Black Couple Buy Philadelphia Restaurant For $3.3 Million

Good news for Philly. Husband and wife, Tracey and Cheri Syphax bought Booker's Restaurant & Bar, which opened in 2017, in West Philadelphia for $3.3 million. They were able to buy the restaurant thanks to a loan from the U.S. Small Business Administration. Saba Telda, the original owner, was ready to sell to spend more time with family, but she told the Philadelphia Inquirer, she wanted Booker's "in the hands of people that would continue her legacy, her tradition." The restaurant is named after Booker Wright, a Black waitress in 1960s Mississippi who worked at a "whites only" restaurant.

Lil Durk Creates Launches Scholarship With Howard University

Lil Durk has partnered with Howard University and Amazon Music for the Durk Banks Endowment Fund, which is a new scholarship for Chicago students to attend Howard University in Washington, D.C. Durk said in a statement, "These kids have to be our biggest investment as they're our future leaders. They are destined for greatness, and I'm encouraging others to join my team's efforts to help pave their way." Two students have already been awarded $50,000 in scholarships, and $250,000 was donated to Howard's financial aid program, GRACE Grant, according to Complex.

Louisiana Woman Makes History With The World's Largest Afro

Aevin Dugas has set a Guinness World Record—for the third time. USA Today reports the 47-year-old has the largest afro on a living person, measuring 9.84 inches tall, 10.24 inches wide, and 5.41 feet in circumference. She previously set the record in 2010 and 2021 and has now reclaimed the title. See her celebrating on Instagram above, but we wonder how many hours she has to invest in wash day! 

Sixteen Year-Old Ralph Yarl Is On The Mend

On April 13, 16-year-old Ralph Yarl was shot twice by Andrew Lester, an 84-year old white man, when the teen went to the wrong house in Kansas City, Mo. to pick up his younger brothers. Thankfully, miracles do happen. Attorney Lee Merritt said on Instagram that while Yarl suffered a traumatic brain injury, he is walking, talking, and expecting to make a full recovery. Yarl has also spoken to President Joe Biden and Vice President Kamala Harris. By Wednesday (April 19), more than 85,000 donations, exceeding $3.1 million, had been contributed to a GoFundMe campaign to help pay Yarl's medical, college, and other expenses. CBS News also reports that Lester has been charged with felony assault in the first degree and armed criminal action. 

Erykah Badu Wants You To "Unfollow Me" On Tour

Erykah Badu is going back on the road, and Yasiin Bey will join her for the Unfollow Me Tour. The tour kicks off in San Antonio, Texas, on June 11 and will reach Philadelphia, Chicago, Detroit, Atlanta, and more. Badu will close "Unfollow Me" on July 23, in her hometown of Dallas, Texas.

Texas Southern University's Cheerleading Team Makes History

Texas Southern University's cheerleaders are the first from an HBCU to win a national title at the National Cheerleaders Association's college national championship in Daytona Beach, Florida, NBC News reports. With an event score of 95.5875, the TSU squad won first place in the Cheer Spirit Rally Division over Niagara University. See their winning performance above.

Naturi Naughton Reveals The Gender Of Her Baby

Actress Naturi Naughton revealed in a gorgeous Essence photo shoot that she and her husband Xavier "Two" Lewis are expecting a baby boy. Naughton wrote, "And for all those who were trying to figure out if my belly looked high or low, or was my nose changing etc, now you know…ITS A BOY!! And the Glow is REAL!" This is their first child together. Naturi and Xavier tied the knot in April 2022.

Trai and Grace Byers Welcome a Baby Boy

In other baby news, Grace Byers and her husband, Trai Byers welcomed their first child, a baby boy. Grace wrote on Instagram, "As we hold our newborn son in our arms, side by side, a new feeling of fullness overwhelms me. I am so moved by what God has done. His miracles, His blessings, His grace. I stand in reverie and awe." Byers and Trai met on the set of the FOX hit show Empire and have been married for seven years.

Natasha Rothwell Returns To 'White Lotus'

White Lotus is one of the most popular shows on HBO Max. However, for whatever reason, season two did not include Natasha Rothwell, best known for her role as Kelli on Insecure. Thankfully, Rothwell is returning for season three, and she confirmed the big news on Instagram, "My heart is full! Words cannot even begin to express how excited, grateful, and humbled I am to have the chance to breathe life into Belinda once again. Thank you for the outpouring of love and support today. I am overwhelmed, overjoyed, and over the f**king moon!"