Meet The Farris/Gouché Tribe: Inglewood's First Family of Sound
Read how faith, creativity, and love of God turned this household into a history-making force in music.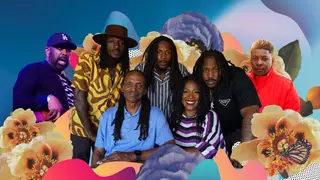 If you're not a hardcore music nerd, the Farris/Gouché family might be a name unfamiliar to you but it is definitely a mainstay on your playlist. With a profound effect within the music industry that spans two decades, Jackie Gouché, her husband Ronald Farris, and her brother, Andrew Gouché, have unknowingly benefitted from the skills, goals, and sounds of their progeny: D Smoke, Tiffany Gouché, SiR, and Davion Farris.
When Jackie was a student at Crenshaw High, her music teacher had such an impact on her that she vowed to sit her kids down at the piano as soon as they could reach the keys.
Jackie has poured all of her musical wisdom into her three sons, Davion, Daniel, and Darryl Farris. Not only did she make sure they learned to play instruments, but Jackie's main goal was to ensure her sons were also musically intelligent.
From day one, they were born into a family of musicians who pride themselves on achieving high levels of musical excellence. Jackie's brother Andrew Gouché, is hailed as the "godfather of gospel bass," and is a Grammy Award-winning musical director and composer.
"The piano is a foundation," said Jackie, who is an accomplished vocalist and singer/songwriter with over 30 years of industry experience. "We grew up with one in the house. Watching my mom play, I always wanted to learn."
She is currently the Minister of Music and the Worship Leader of Bible Enrichment Fellowship Church in Inglewood, California.
"I'm meeting more and more people that were not brought up in the church, but when we were younger, everyone went to church," Jackie reflected.
Historically, the Black church has always been the foundation for everything that grew out of the African-American community, from music to the civil rights movement
Jackie and Andrew got their start singing and performing in church. Their grandfather, Rev. Bartee Mitchell Smith, was a Baptist Minister in Mobile, Alabama. When her mother was seven, her grandfather moved the family to Los Angeles.
As a woman of faith, Jackie was very intentional in laying the foundation of love and self-awareness inside the home for her children.
"There was always that foundation of love in the home," said Davion. "So it bled right through when it came to us deciding to make music and choosing to become artists, creating from our own experiences."
It was not always a smooth path, however, and Jackie had to master herself before she could become a vessel of light for her children.
When her children were toddlers, Jackie found herself struggling with cocaine addiction. She writes about her journey of overcoming in her autobiography, How Would I Know? and her second book True Worshippers.
"Even during this time, God moved in my life miraculously," Jackie reflected. I actually got high the day Daniel was born."
Jackie has been sober for over 20 years now, which is a testament to the power of healing through God's grace and mercy.
In 2019, the Gouché/Farris family was once again propelled into the national spotlight; when Jackie's middle son, Daniel "D Smoke" Farris won Netflix's hip hop series Rhythm + Flow. The world saw D Smoke, but behind the scenes, his musical success and talents were rooted in his family, including his mother and her brother Andrew. This musical legacy continues to be a guiding beacon for the younger family members.
D Smoke and his brothers are all musicians in their own lanes, with their own notoriety and slew of successes. His middle brother, Sir Darryl, known mononymous as Sir (stylized as SiR) is signed to Top Dawg Entertainment. Before joining the label that became known as the home base for Kendrick Lamar and SZA, SiR was quietly developing his craft as an engineer for Tyrese Gibson in 2012, and would later go on to work with Anita Baker, and also co-write material for Ginuwine, Jill Scott, and Stevie Wonder. In 2014, he would receive his first spotlighted feature on Anderson .Paak's album, Venice.

[Ed. note: SiR was contacted to contribute to this piece but his camp respectfully declined.]
Meanwhile, Jackie has sung vocals for Michael Jackson and toured Japan with Chaka Khan singing back-up. She worked with legendary musicians like Stevie Wonder and Quincy Jones and made several appearances on The Arsenio Hall Show.
She credits her introduction into the music industry to her brother Andrew, who even encouraged her to enroll at Crenshaw High to work with their music teacher.
From 1997 to 2003, Andrew led Prayze Connections, which brought together some of the best gospel musicians and singers of the time to fellowship and praise through music.
"Prayze Connection was where production teams got started. People who were giants in the industry would come faithfully every Sunday night. Gospel groups, singers, musicians. I look up one night and Brandy [Norwood] is sitting in the audience," said Andrew.
"I played with the absolute best musicians and we had the absolute best singers. Period."
Along with their mother, the Farris brothers credit their uncle Andrew for really helping them cultivate their artistic expression and creative ideas, by investing in themselves with musical equipment.
When D Smoke was a student at UCLA he took out a loan despite having his tuition, room and board paid for. He wanted to support his brother Davion's vision of building a studio at their parent's home.
"To put up walls and hang ceilings, have somebody come in to do the electricity, put in flooring, build a studio desk, build a booth, run wires, and all of that [costs money]," D Smoke recalled when speaking to BET.com over Zoom.
This would eventually lead to them gaining their next deal, which was based not so much on their music at the time, but on their ingenuity. The brothers had signed their first deal as preteens to Dreamworks Records in a group they created called N3D.
"That was probably one of the best moments of this whole journey. I have those photos at my house right now. We can look back and be proud of the kids we were," D Smoke continued.
Davion, Daniel, and Daryl would team up with their cousin Tiffany Gouché in 2004 to form their record label, Woodworks. They have produced various projects through their musical songwriting collective, which has been a major anchor in helping the trio mesh and develop their own individual sounds throughout the years.
"I saw my family and my uncles and aunts honor God and honor the gifts they gave us," said Tiffany, who is a five-time Grammy-nominated singer/songwriter. "I come from a family of dope musicians who love God."
As someone who grew up in the church, Tiffany also happens to be a queer woman. Her music has become therapeutic in her journey of self-analysis. She is transparent about how hard it was to accept all parts of her identity that at times, seemed to be in conflict with her religion.
Tiffany says she knows that she loves God, and she also loves women. For many years, it was troubling for Tiffany to know that her sexual orientation was not in alignment with what mainstream Christian ideas said about sexuality.
"God is bigger than religion or sexuality," Tiffany shared with BET.com exclusively.
She uses her art to connect with people through energy and emotion. Her main goal is to help people feel comfortable in their skin while understanding that God loves you regardless of what society tells you.
For Andrew, he is honored to be in a family with so much musical talent and have the opportunity to support his nieces and nephews. He says that their musical maturity is beyond their years.
"My mother, Betty Gouché, is where all of this came from," said Andrew.  "I'm glad she has lived long enough to see all this fruit ripe and be consumed by the world and be a blessing to people."
Jackie says that clearly, God's purpose for her family was music to inspire people and show them through music, who God is.
"As much as I love the church and I love God, there is something unhealthy and toxic about church culture that makes people feel they have to be a certain way for God to love them. God loves everyone, all he wants is a connection to us," said Jackie.
Through all of the personal adversities, industry changes, and gentrification issues that have changed the landscape of Los Angeles, the Farris/Gouché family has remained a consistent voice in the booth and in the streets. As a favorite household name for music lovers and snobs alike, they are reminiscent of a next-gen version of the Winans Family. 
Their commitment to family and purpose is rooted in their love of God, and with those virtues intact, the Farris/Gouché family will continue to achieve high levels of excellence in their artistry for generations to come.
---
Tina Sampay, also known as Slauson Girl, is a writer and journalist from South Central, Los Angeles. Follow her on IG @SlausonGirl.