Kamala Harris Came Shockingly Close To Pipe Bomb During Capitol Insurrection
This raises questions about what safety measures were in place.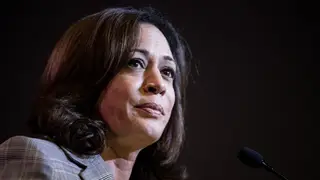 Vice President Kamala Harris came within yards of a pipe bomb planted next to a bench outside the Democratic National Committee building during the Jan. 6, 2021 riot at the U.S. Capitol building, CNN reports, revealing new details that were previously not made public.
This report raises questions about the security measures that were in place to protect Harris when the seat of the American government came under domestic attack.
The then-vice president-elect drove within several yards of the device and was inside the DNC headquarters for nearly two hours before the Capitol Police discovered the bomb that was rigged to an egg timer, the news network said, citing multiple law enforcement officials.
Unnamed sources told CNN that Harris' motorcade arrived at DNC headquarters at about 11:30 a.m. ET through a garage near the location where law enforcement discovered the make-shift bomb. She was removed from the building at approximately 1:14 p.m. ET, seven minutes after Capitol Police started investigating the bomb.
Before her arrival at the DNC, the U.S. Secret Service swept the interior of the building, the driveway, parking deck and entrances and exits. The Secret Service was responsible for her safety, even though Harris and then-President-elect Joe Biden were not yet sworn into office. Agents evacuated Harris from the building through a route away from the bomb.
The Secret Service declined to comment on CNN's report because the agency "does not discuss protective means and methods."
A similar pipe bomb was also found outside the Republican National Committee building in Washington, located about a quarter-mile from the DNC building. Both bombs were viable, but neither of them detonated. Robots neutralized both explosive devices. So far, no one has been charged in the ongoing investigation.