A$AP Rocky Shares Cute Photos Of His And Rihanna's Baby RZA
Baby RZA is 13-months-old.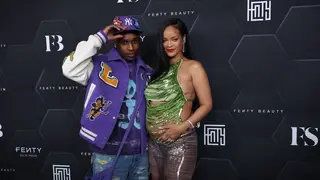 A$AP Rocky is smitten with his baby boy RZA.
In an Instagram post that has garnered nearly 15,000 comments, the "D.M.B." rapper shared new photos of his 13-month-old baby boy with Rihanna on the platform to honor Father's Day, according to E! Online.
"EVERYDAY FATHERS DAY," he captioned the post.
The Harlem native, 34, began the carousel of images with one of him wearing a pink shower cap while brushing his teeth.
There are also two images of little RZA sound asleep wearing a cow onesie next to his father, and in another with Rihanna as she models a sweet grin while he naps beside her.
A$AP Rocky also shared a cute, bright-eyed image of RZA as he smiles ear to ear.
The post includes a candid family moment of the family as A$AP Rocky holds R.Z.A. while kissing Rihanna's baby bump.
Bad girl Ri-Ri, showed love to her precious crew by writing, "The Mayers boys stole my whole heart! Happy Father's Day nerd," in the comment section.
The post comes a month after RZA celebrated his first birthday with his famous mom and dad on May 13.
Last month in a social media post, A$AP Rocky revealed that his little one was named after the late Wu-Tang Clan member RZA. Of his son's name, he said, "'WU TANG IZ 4 DA CHUREN.' HAPPY 1st BIRTHDAY TO MY 1st BORN . RZA."
The "Diamonds" singer broke headlines during her Super Bowl Halftime performance in Phoenix earlier this year when she revealed her growing baby bump.
Her beau proudly watched from the field during that performance as she rocked the stage.
After announcing her second pregnancy, Rihanna told British Vogue, "We're best friends with a baby," she said. "We have to be on the same page, but we've always kind of had that in our relationship. Everything changes when you have a baby but I wouldn't say it's done anything but made us closer."