Enormous Juneteenth Mural Revealed In Galveston, Texas
It was inspired by General Order No. 3 that federal troops read on June 19, 1865 informing Texas slaves of their freedom.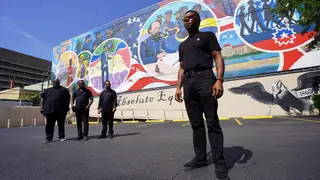 In Galveston, a huge new mural commemorating Juneteenth has been revealed.
Titled "Absolute Equality," the mural was inspired by General Order No. 3 in which federal troops read aloud at numerous locations informing slaves in Texas of their freedom on June 19th, 1865, according to KHOU11. The news came two-and-a-half years after President Lincoln's Emancipation Proclamation.
"I'm excited about a new mural that we've created for Juneteenth," Houston artist Reginald C. Adams tells the television news outlet.
The giant new mural was revealed this week ahead of the Juneteenth holiday and was created over the course of 27 days.
"1,296 labor hours, moving 312 gallons of paint, covering 5,000 square feet," Adams tells the news station. "Absolute equality is a virtue that I think we should all be living towards."