This Week in Black: Sexuality on 'Insecure,' MJB in 'Murder' and French Montana Is 'Empire' Bae
Plus, Safaree played his corny-ass self on "Love & Hip-Hop."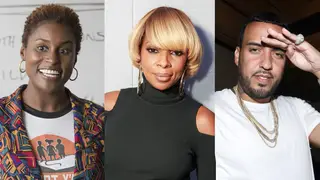 Television had some much-needed star power to make the season finales turn up. Whether it was a soulful R&B diva that restored edges to one of the most gangsta lawyers on ABC or one of your favorite childhood rappers who decided to play internet bae gone cyber creep — I lived for all of the drama (and the mess). Here are some of the things that came for my chill.
Safaree played himself during the Love & Hip-Hop Hollywood reunion.
Safaree Samuels just can't seem to get a break and I don't even know what to tell him. The former Mr. Minaj got destroyed by his ex Nikki… no, not Nicki Minaj, but fellow Love & Hip-Hop Hollywood cast mate Nikki Mudarris (or Nikki Baby, if you're nasty) and I was gagging. Nikki Baby's lesbian lover, Rosa Acosta, basically threw all of the daggers at how Safaree never wanted to pick up the check on dates when he hooked up with his ex. Ouch! And then Nikki came in with the uppercut and told him to step up his paper. The ladies proved, beyond the heavy Jamaican accent and being Ray J's hype man (seems like he just can't shake that occupation off), Safaree was just a big cornball looking for relevance in the worst way. No wonder why Ms. Minaj was throwing those Twitter shots before the season began!
French Montana and Romeo are messy guest stars on Empire.
Empire was more lit than usual this week. And no, it wasn't the Cookie's antics or Lucius's melodramatic moments that stole the show -— it was the cameos. I usually hate the guest celebrities that stop by Empire. Not because their acting is horrible — but because they just don't usually serve anything for the plot. For example, Mariah Carey playing "Kitty," aka herself, with a feline name a few episodes ago was a straight chop across the board for me. But in comes French Montana and Romeo giving you straight up drama. French Montana played a backstabbing homie from the block and Romeo Miller (yes, Lil Romeo) acting like a petty Snapchat ex. Seeing French go from a dumb character to a low-key corrupt bae against Lucius Lyon within one hour had me like: this brother might have the range. Poor Romeo basically got jumped by Xzibit (yes, another great guest star) for no reason... perhaps he shouldn't have been talking all that smack for the camera. Lee "Stay Coming With the Mess" Daniels, please bring these guys back on the show — I was here for they were serving, looks and all.
Molly can take several insecure seats on her sexuality judgment.
I was not here for Molly on Insecure this week. Her single ass finally gets a chance to meet a fine guy who was too good for her basicness — the brotha even knew how to pour wine like a pro — and yet she dismisses him because he had a past same-sex experience. Really? Like girl, are you really judging him that hard when your Black behind has had some lesbian encounters of your own? See, this that ish I don't like. Well, "nice guy" Jared — who was so fine I could see why both sexes would give him the business — was ultimately rejected because basic Molly claimed she "want my man to be a real man." No, you don't want a man homegirl (because that was a real one that kept it 100 from the jump) — you want a robot that you can control... which is probably why your ass is single in the first place. Last time I checked, nobody had the barometer on sexuality and clearly Molly can take several stadium seats all by herself on thinking she can.
Mary J. Blige did hair and spilled hot tea on HTGAWM.
Go Mary, go Mary! That's all I was saying when I saw MJB come through and get Viola Davis's edges together on How to Get Away With Murder this week. Her celebrity cameo was much needed as we saw her do that kitchen so well that even Annalese Keating was crying after the appointment. But let's get into her realness. Not only was she the best Philly hairdresser on the block — but she came with the gossip. Spoiler alert! Mary told Annalese that some sista came in looking for her, we later find out that it was the messy ass district attorney who's been sleeping with Keating's ex. I was like, "yasssss Mary, pour that tea honey!" Understand that nobody has the tea more than your barber or hairdresser, so Annalese didn't need to check her sources — she just went straight to that DA's office and got that messy investigator together. Well played, Mary. Well played. Until next week, Black America — remember to always tip your hairdressers when they have some hot tea to spill, and don't ever think about twerking to gospel music... no matter how much it puts you in the Thanksgiving day spirit.
Watch Viola Davis talk about playing Harriet Tubman in our exclusive interview, above.