'The Angry Black Girl And Her Monster' Director Bomani J. Story On His New Film And Personal Monsters
The horror film hits theaters this Friday.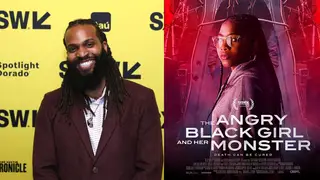 You've never seen Frankenstein like this before. The Angry Black Girl and Her Monster is an innovative reimagination of Mary Shelly's 1818 novel Frankenstein. Directed and written by newcomer Bomani J. Story, the movie follows a young scientist named Vicaria – played by the phenomenal Laya DeLeon Hayes, best known for her role on Queen Latifah's Equalizer – who believes "death is a disease" that can be cured. The film, which hits theaters this Friday, cleverly tackles the monsters in the everyday life of young Black people but still leaves viewers to make their own interpretation.
In Bomani J. Story's first BET.com interview, the 34-year-old San Bernardino County native talks about his vision in making The Angry Black Girl and Her Monster and how he handles his monsters.
BET: When did you first fall in love with horror films?
Bomani J. Story: When I was younger, my two older sisters gave me terrifying films and terrified me as a kid. [Laughs] Halloween, Freddy Krueger and Chucky. They were affecting me.
BET: The Angry Black Girl and Her Monster is a take on Mary Shelly's 1818 novel Frankenstein. What inspired you to put this new spin on  Frankenstein?
Bomani J. Story: It started with the literature. I loved the book and I wanted to do something with it. You mix a little bit of that, with my two older sisters being big influences on me when I was growing up. The combination of those, kind of made this story. The important thing for me was grounding this character and refocusing the audience on who the story is actually about, which is the scientist, in this case, herself.
BET:  The Angry Black Girl and Her Monster is a powerful title. What made you choose that title?
Bomani J. Story: I wish it were as simple as me trying to be provocative, but it was an emotional journey. My titles come very late. Once I had finished writing the script, this was the title that spoke to me. Once I started giving it to my actresses to look at it, they were challenging me on it,  then all of a sudden, they started championing it. As more people got involved with the project and had their own interpretation of the title, I got more firm on my stance. Initially, it just felt appropriate that it captured what the story was and then as people started talking about it, and wearing it, and being a part of it, it just grew from there.
BET: There were a lot of interpretations for me of what the actual monster is. For a lot of Black communities, our monsters are daily. From the director's lens, is the monster interpretive?
Bomani J. Story: Yeah, audiences need to have their own relationship with the movie. I never want to interpret that – it's only my job to foster it. I hope people can walk away with their interpretation of the monsters and the actual horror in this movie. I think questioning that and bringing that to the forefront we'll have an audience walk out with their thoughts on would be very beautiful for me.
BET: What is your monster?
Bomani J. Story: [Laughs] There's an element of this movie of believing what someone tells you you are. I think something as simple as me calling you stupid when you're five, and you go on the rest of your life thinking that you're not smart, can alter your life forever. That's very horrifying to me – believing people when they're wrong.
BET: In writing The Angry Black Girl and Her Monster film, has it helped you grapple with your monsters?

Bomani J. Story: Yeah,  think like, one of the ways to combat that monster is having self-confidence. Knowing the correct history about yourself, not shying away from things, it gives you these pillars as men or even as Black men or Black women. When we understand ourselves, it becomes much harder to demonize me and make me believe it. This movie definitely helped with that.
The Angry Black Girl and Her Monster is in theaters on June 9 and On Demand and digital on June 23.