Behavioral Specialist Charged With Assault After Video Showed Him Lifting a Teen by the Neck
Here's why Joseph Golden's attorney says he did nothing wrong.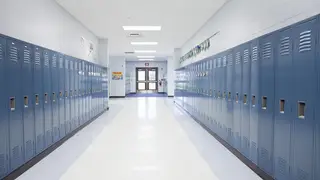 A behavioral specialist for a Pittsburgh alternative school for "at risk" students has been charged with assault and will stand trial for lifting a student by the neck in April.
Joseph Golden III, 50, was charged with simple assault and endangering the welfare of a child for picking up a student by the neck and carrying him down the hall at Rankin Promise alternative school in the Woodland Hills School District.
During the incident — captured by a surveillance camera — Golden grabbed an unidentified 13-year-old student, pushed him up against the wall and dragged him down the hall. Although the footage is troubling, Golden's attorney, Pat Thomassey, said his client used an "approved restraint method."
"I don't think my client did anything wrong," Mr. Thomassey told Pittsburgh Post-Gazette. "He wasn't choking the kid, he was lifting him by his chin."
Thomassey additionally argued Golden had a duty to make sure the student, who may have behavioral issues, remained in class. According to Thomassey, the student left the classroom multiple times that day and was "mouthing off" to Golden.
"From what I saw, all he did was grab him and take him down the hall. He didn't choke him. He picked him up around the neck and shoulder. The kid didn't go to the hospital, he didn't go to the doctor, he told the principal he wasn't hurt. This isn't a simple assault. I don't understand," Thomassey told CBS Pittsburgh.
On the day of the incident, Golden was suspended without pay, according to Woodland Hills superintendent Alan Johnson. When it comes to the method Golden used to restrain the teen, Johnson said he was "disappointed" in Golden's action.
"It's not an approved restraint that I'm aware of," Johnson told the Post-Gazette. "At the end of the day, there was no way I could offer a reasonable excuse for why that happened.
Johnson also recommended Golden be terminated by the district.