'There Are No Chances': Crystal Renay Opens Up About Divorce From Ne-Yo
There is no chance of reconciliation, she says.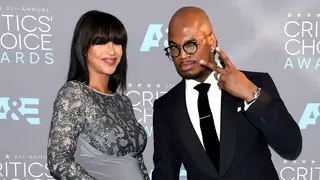 Crystal Renay has no plans to reconcile with Ne-Yo she said amid her divorce filing over allegations of his cheating.
According to TMZ, who caught up with Renay as she was spotted ringless outside of a Los Angeles airport (LAX), appears to have made her final decision.
"There are no chances," she said when asked if the two would reconcile. "God is good. We are moving on to better lives."
In late-July, Renay, 36, wrote in a now-deleted Instagram post that she will "no longer lie to the public or pretend that this is something that it isn't."
Renay publicly accused the R&B singer-songwriter of infidelity, alleging that he fathered a baby with another woman. She filed for divorce in early August.
In the documents obtained by TMZ, Renay has the couple's separation date as July 22, 2022. She states she's been taking care of their three children since the separation.
Renay is requesting primary physical custody of the kids and joint legal custody. She's also requesting child support and alimony.
"I gained 3 beautiful children out of this but nothing else but wasted years and heartache," she continued in the deleted IG post.
Following Renay's IG post, Ne-Yo tweeted a plea for privacy.
Previously, the estranged couple wedded in 2016 and split in February 2020 – even filing for divorce – before getting back together four months later. The two just renewed their vows in April 2022 at a red-themed wedding in Las Vegas.