Rihanna and A$AP Rocky Share First Photos of Newborn Baby Boy Riot Rose
Riot Rose was born in August.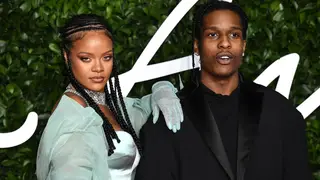 Rihanna and her beau, A$AP Rocky, just had a sweet photo shoot with their new baby boy.
In the photos, the proud parents are seen with little Riot Rose –who was born in August–  as well as their eldest son, RZA, 16 months, as reported by PEOPLE.
In one photo, the Barbados native and the rapper are captured smiling at their baby as he lies on a pink and blue blanket. The infant looks up at his parents while wearing an adorable blush pink two-piece set.
Another photo features the entire family as the dad holds RZA in one hand, who is rocking a cute pair of FENTY x Puma Avanti sneakers in silver and black. While RiRi smiles at him, she cradles the newest member of their crew, who appears to be wearing a soft pink durag.
There are also more precious frames of Rose, along with his mom, as she wears a denim jacket with multiple gold necklaces and reveals her arm art while carrying him. The fun photo also shows the baby wearing his first pair of classic Timberland boots in wheat nubuck. In that shot, RZA sports a set of cornrows while sitting on top of his famous dad's shoulders.
Last month, sources confirmed to the outlet that the "Lift Me Up" singer and A$AP Rocky welcomed their baby boy, and earlier this month, his name was revealed, sparking speculation of its origin.
In August, A$AP Rocky released his latest single, "Riot," though it has not been confirmed if there is any correlation between the baby's name and the song.
Additionally, the name of their first child also begins with the letter R. Big brother RZA's moniker was given as a tribute to the founding member of the Wu-Tang Clan.