Tasha Smith Replaces Theresa Randle in 'Bad Boys' Film Following Concerning Video of Actress
Smith will take on the role of Theresa Burnett.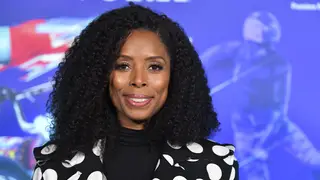 Actress and director Tasha Smith will join the Bad Boys franchise alongside Will Smith and Martin Lawrence in the upcoming fourth installment, taking on the role of Theresa Burnett, previously portrayed by actress Theresa Randle in the first three films.
Smith has starred in several movies and shows over the last three decades, including Couple's Retreat, Tyler Perry's Why Did I Get Married and its subsequent sequel, and its television spin-off series, For Better or Worse opposite Michael Jai White.
News of the movie's recasting came amid a very concerning video shared by Hollywood Unlocked from Instagram user @bigdoglerdy, of a woman believed to be Randle sitting in a walker while speaking with locals on the streets. The actress appeared smaller than what most fans remembered, wearing a Disneyland sweater, plaid pants, a green baseball cap, and blue disposable gloves.
Roger Neal, who claimed to be a former manager and publicist of the star, confirmed her identity in a recent interview with Radar Online, telling the outlet, "That's definitely her. 100 percent."
The agent said he hadn't worked with the star in over a decade but had received several inquiries from folks wanting to work with the Spawn actress. However, he could not make contact noting that her number had changed and she no longer had a working email.  He's unsure of her current living condition, but she was last said to reside in Beverly Hills.
Randle began her theatrical career in the 1987 film Maid to Order. She appeared in several Spike Lee films, including Girl 6, Junge Fever, and Malcolm X, Beverly Hills Cop III, Space Jam, and many more from the late 80s to 2020.