Bad Boys 4 Life! Will Smith Announces 'Bad Boys 4' Is Coming Soon
Bad boys, bad boys, whatcha gonna do? Whatcha gonna do when Marcus Barnett and Mike Lowrey come for you?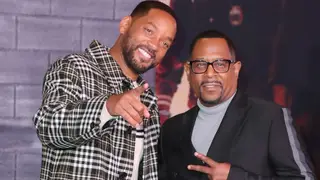 You can't keep a good duo down! And it looks like Martin Lawrence and Will Smith are about to give the people what they've been eagerly waiting for, another installment to the Bad Boys franchise!
"I wish I was you, not knowing what I'm about to show me," Smith said while driving and filming. 
Smith pulls up to a house, and Martin Lawrence answers the door.
"It's about that time?" Lawrence asks.
The last installment, Bad Boys For Life, the sequel to 2003's Bad Boys II, was released in  2020 and opened to a $59 million domestic box office and made close to $500 million. Although neither Smith nor Lawrence announced a release date, we are ready!