Stacey Abrams Warns Of Voter Suppression In Georgia As Early Ballot Voting Continues
Early voter turnout has already shattered records over the previous election.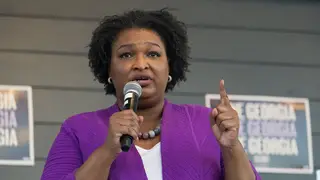 With the 2022 midterm elections just two weeks out, Georgia Democratic gubernatorial candidate Stacey Abrams is casting a warning about voter suppression even amid record-breaking turnout already underway.
During a press conference on Monday (October 24), the voting rights advocate and former Georgia state senator said that high turnout isn't necessarily an indicator that intimidation and attempts at quelling American's right to vote isn't occurring in the southern state.
"In 2018, we had record turnout," Abrams noted. "We had record turnout that shattered records for Democrats among communities of color and in that same election … we know that 85,000 Georgians were denied their right to vote due to voter suppression tactics that shut down their precincts. We know that 50,000 voters had their right to vote held hostage by the exact match process which was proven to be voter suppression tactics. We know that thousands of people stood in lines for hours because of voter suppression tactics."
Four years ago, reports indicated that thousands of "infrequent voters" had their ballots purged in Georgia. As a result, mainly voters of color had their registration put out on hold due to the "exact match" law, which puts someone's voting status on hold if the information they put on their registration form doesn't exactly match their driver's license or social security records.
Abrams filed a lawsuit in 2018 after she narrowly lost the governor's race to Republican Brian Kemp. She accused the then-secretary of state Kemp of using his power to suppress votes to which Kemp denied.
In September, a federal judge ruled that the state did not violate the constitutional rights of voters.
After losing the election, Abrams became a national figure expanding voting rights, building coalitions and registration efforts that many believe led to electing two Democratic senators in Georgia, which helped flip the full Senate blue in 2020.