Black Voters Make A Variety Of Choices On Mayors and Ballot Issues In Major Cities
In Atlanta candidates are headed to a runoff, while in New York, Detroit and Cleveland, the choice was clear and in Pittsburgh, history was made.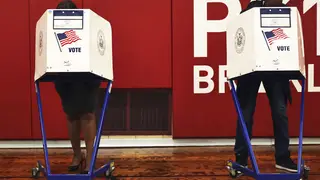 Atlanta's hotly contested mayoral election is headed to a runoff after months of campaigning between more than a dozen candidates, while in other cities like New York, Detroit, Cleveland and Pittsburgh, voters elected candidates who had strong backing all along, but in Buffalo the progressive challenger was pushed back and in Minneapolis it remains unclear who will be the city's leader.

Voters in cities around the country turned out Tuesday in what could be a walkup to the 2022 midterm elections, Black voters in major municipal areas largely chose candidates who would be strong on tackling crime in those cities and in some cases, incumbents whose agendas were already in place.

These come as the gubernatorial races bode well for Republicans in Virginia, including the election of a Black lieutenant governor; while in New Jersey, the candidates are in a neck-in-neck tie.

Here is a breakdown of the major races around the country.
Atlanta: Candidates Head To Run-Off
While the city celebrated its first World Series championship in 26 years Tuesday night, voters chose not to bring former mayor Kasim Reed back to City Hall, but instead picked City Council member Andre Dickens and Council president Felecia Moore for a Nov. 30 runoff election. According to local station WXIA, Moore led the field in election results while Dickens edged out Reed with just enough votes to prevent him from being able to request a recount. The winner will replace outgoing mayor Keisha Lance Bottoms.
Buffalo: Write-In Incumbent Holds Off Challenger

Democratic socialist challenger India Walton was rebuffed by voters who chose incumbent Byron Brown, despite her defeat of him in the June Democratic primary. Brown, after taking legal action, was not able to get himself back on the ballot, so he ran as a write-in candidate and that was enough to garner voter support. According to The Buffalo News, it is the first time any candidate has won a fifth term there. Walton, a nurse and community activist  who gained grassroots support across New York State, had not conceded by late Tuesday night, but Brown had declared victory over her based on returns.

Cleveland: New Mayor To Replace Four-Term Veteran

Justin Bibb, a nonprofit executive who has not held elected public office, will be the next mayor of Cleveland, replacing Frank Jackson, who is leaving after 16 years and four terms in office, WKYC reported. Bibb went up against City Council member Kevin Kelley selling voters on the idea that someone who was not a political insider could better lead the midwestern city. But he also stood on the side of a city charter amendment that also won Tuesday. Issue 24 will shift police oversight in Cleveland, giving a civilian review board more power to deal with officer misconduct.
Detroit: Incumbent Easily Thwarts Challenger

Mike Duggan, who won his first mayoral election in 2013 as a write-in candidate, was elected to a third term to lead the Motor City. Voters apparently were impressed with the amount of corporate investment and development he has brought to the city over the past eight years. He defeated challenger Anthony Adams in a landslide, according to the Detroit Free Press. Adams had campaigned on a platform of help for neighborhoods, but the community was unconvinced. Detroit voters also decided to move forward with a reparations commission, according to The Detroit News, joining several other U.S. cities to do the same.
Minneapolis: No Definite Winner Yet; Police Reform Proposal Shot Down
The city at the center of global demonstrations against police violence does not have a clear winner in its mayoral race. Incumbent Jacob Frey is leading the field of 17 candidates in the first round of ranked choice voting, so far holding off AJ Awed, Kate Knuth, and Sheila Nezhad, his most serious challengers, according to CBS Minnesota. Election rules state that the winner must have 50 percent of the vote or more to win, Frey has 43 percent. Meanwhile, voters also chose to reject a ballot proposal that would change the Minneapolis police department into a public safety department.

New York: Voters Pick Ex-NYPD Captain To Lead
Eric Adams, the Brooklyn Borough President who was once a rank and file member of the New York Police Department, was elected to lead the nation's largest city in a decisive vote, making him the city's second Black mayor, The New York Times reported. The Democrat won out over Republican opponent Curtis Sliwa, founder of the anti-crime volunteer group the Guardian Angels and had been the favorite after defeating several other candidates in the Democratic primary. Adams replaces outgoing mayor Bill de Blasio, and must now answer citizens' concerns about skyrocketing violent crime, particularly in Black communities, and the city's increasing cost of living.
Pittsburgh: Voters Make Resounding Choice To Elect First Black Mayor

Democrat Ed Gainey made history Tuesday when he defeated Republican Tony Moreno, continuing his party's generations-long occupation of City Hall and becoming the first African American to take the top spot, according to CBS Pittsburgh. Gainey ran on a platform of making the city more affordable, equitable and safer. He defeated current mayor Bill Peduto in the primary with a grassroots message that the incumbent had not done enough to foster inclusivity as the city grows. But he is also promising creation of a comprehensive health plan to fight back against inner city problems like crime and violence.
Seattle: Former City Council President Takes Lead In Race
Although the vote tally is not final, Bruce Harrell was leading City Council President M. Lorena Gonzalez Wednesday morning (Nov. 3) in a contentious race between two competing visions of what the city could be, said the Seattle Times. However, with most of the ballots counted, pollsters believe there is no path to victory for Gonzalez with Harrell's significant lead. Harrell, known as a moderate, promised to take action surrounding the large number of homeless encampments and bring in more police. While Gonzalez, a progressive, was behind defunding the police to support other services. With a win, Harrell becomes Seattle's first Asian-American and second Black mayor.
Virginia: GOP Victory Also Brings In Black Lt. Governor
Winsome Sears, a conservative Republican will join gubernatorial race winner Glenn Younkin as lieutenant governor after a race that not only upset Democratic former governor Terry McAuliffe, but could be a look at how midterm elections will go in 2022. According to CNN, Sears defeated Democrat Hala Ayala in a race, which in that state, is run separately from the governor's race. A Jamaican native and former Marine, Sears is the first Black woman to be elected to the Virginia General Assembly. She said in an interview that she supports creating Black generational wealth, but in the same sentence called President RIchard Nixon a "homeboy."