Mother Emanuel Church Massacre Victims And Families Reach $88M Settlement With Feds
The suit accused the FBI of negligence for failing to properly check the background of convicted killer Dylann Roof.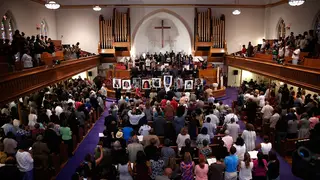 The federal government will pay $88 million to resolve a lawsuit filed by the families and survivors of the June 17, 2015 massacre in Charleston, S.C.,  in which a white supremacist murdered nine Black people at a bible study at Mother Emanuel A.M.E., officials announced.
The State confirmed the total settlement amount with Charleston attorney Carl Pierce whose firm represented one of the victims, the Rev. Daniel Simmons Sr., who was among those gunned down by Dylan Roof.
The U.S. Department of Justice approved the individual settlements, which were being filed Thursday (Oct. 28) in the U.S. District Court in Columbia.
According to WCSC, the $88 million settlement includes $63 million for the families of the slain and $25 million for survivors of the shooting.
The lawsuit accused the FBI of negligence by failing to perform a proper background check that allowed Roof to obtain a weapon.
Weeks prior to the shooting, Roof was arrested for drug possession. However, clerical errors and other mistakes enabled him to purchase a handgun. Roof was found guilty and given a death sentence in 2017.
This is a developing story. Check back for updates.