Brandy Verzuz Monica: 5 Memorable Moments That Had Us Reminiscing For The 90s
With over a million viewers, the record-breaking night was one for the history books.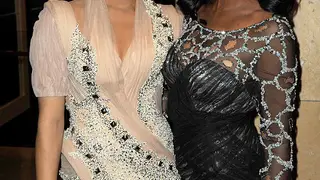 After weeks of anticipation, the world stopped as people came together to witness a monumental moment in R&B history last night (Aug. 31). R&B titans Brandy and Monica reunited for an  epic face-off on the latest round of Swizz Beatz and Timbaland's wildly-popular Verzuz series. Since its announcement, fans have been looking forward to it, and Monday night, the ladies did not disappoint. 
Brandy and Mo treated viewers to their collection of hits, rarities, deep cuts, and fan-favorite records. Brandy even shared poems throughout the night. Since their teens, both singers have been in the industry, giving them a  treasure trove of stories to share from over the course of their illustrious careers. The record-breaking night was one for the books. Here are some of the most memorable takeaways from their historical Verzuz.
A very special guest made a surprise appearance.

Before things got fully underway, Brandy and Monica were paid a surprise virtual visit from  Democratic vice presidential candidate Kamala Harris. The California senator briefly popped in over video to celebrate the ladies and encourage people to vote. "I just wanted to thank you, ladies, you queens, you stars," Harris exclaimed, casually rocking a Howard sweatshirt. "Thank you for doing this for When We All Vote. It's so important for everyone. You both used your voice in such a powerful way, and an extension of our voices is our vote."
Monica chimed in to add, "we understand the importance of people getting out and voting right now. And they feel so helpless right now, but that's how you help yourself, help your community, help your brothers and sisters."

Brandy and Monica's historical face-off set a new record.

As has become the norm, celebrities and fans alike congregated in the comments section of the livestream. Everyone from Michelle Obama and Missy Elliott to Ciara showed them love. The  R&B stars took viewers on a trip down memory lane through their catalogs while sharing the backstories behind some of their  fan-favorites. Their session set a new record and broke more than 1.1 million viewers, even peaking at 1.2 million at one point. 

3. Brandy teased another possible collaboration between the two songstresses that blew fan's minds.

On multiple occasions throughout the three-hour affair, Brandy alluded to a possible tour headlined by her and Mo. When the livestream peaked at 1.2 million viewers, Brandy noted that the demand was there. At the same time, that didn't seem like a possibility even one short year ago, but their camaraderie and reverence for each other's work made it seem as if it could happen.

Brandy recalled receiving shout-outs from two legendary MCs.

While queuing up, "I Wanna Be Down," Brandy recalled first running into Tupac on the red carpet at the premiere of Set It Off. Brandy, who was a teen at the time, was fangirling at meeting the late rap icon. It seems he was just as excited to meet her, which came as a shock to her.  She said she was surprised that he even knew who she was. Her excitement caused her to accidentally blurt out "West Side.' She didn't share what Pac's reaction was to the gaffe, but she recalled hearing him namedrop "I Wanna Be Down" in his 1996 song, "Me & My Girlfriend." Later, Brandy shared the story behind how "Sitting Up In My Room" led to her working with Babyface for the first time, and recalled another on-record shout-out, this time from Biggie on "Another" from his acclaimed album, Life After Death.

We know that godmother Whitney Houston was smiling from above.

Perhaps, the biggest takeaway for many was the joy it brought to their hearts to see Brandy and Monica patch things up, especially after they revealed that they hadn't spoken in eight years before the battle. The night was filled with jokes and playful banter. "People need this music," Brandy said of their Verzuz. "People need to see us together. People need to see unity and celebration...I'm just honored to be sitting next to you." The ladies concluded their reunion on a special note. Brandy closed out with "The Boy Is Mine." The record won them both a Grammy.