Jay-Z And Common To Appear In Big Daddy Kane's 'Paragraphs | Manifest' Documentary
It will reportedly premiere on Netflix.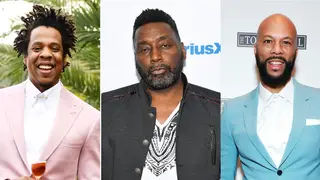 Rap icon Big Daddy Kane will soon drop a documentary, Paragraphs I Manifest, on Netflix that is set to include some of the most legendary hip-hop stars to date. 
In an interview with AllHipHop.com, Kane shared details about the new project. 
"It's about lyricism and it's coming together so great. I got the battle rappers, Goodz Da Animal, Aye Verb, discussing battle rap today, versus battle rap in the 1980s," said Big Daddy Kane.
Most recently, Kane has been posting photos of himself with several emcees, including Jay-Z and Common, as teaser attached to the forthcoming doc. 
"The main reasons why I really wanted to do this is because I see so many talented young artists that have unique styles. And they make hit songs but a lot of things that artists don't understand is for longevity purposes your listeners have to tune into you as the artist ," he said.
He added, "[It's] just trying to show the younger generation The importance of lyricism so they can have that longevity in the game. I have nothing but love and respect for the younger generation and I want to see them achieve the things that a lot of cats from our generation achieved to make it to where we can still be around today, 30-something years later." 
Big Daddy Kane is one of rap's pioneers. In the 1980s, his albums Long Live the Kane and It's a Big Daddy Thing are credited as rap classics.