Meet Alim Smith: The Afro-Surrealist Behind the Abstract-Inspired 'Atlanta' Artwork
The interdisciplinary artist talks about the power of Black memes and working on the Donald Glover-led series.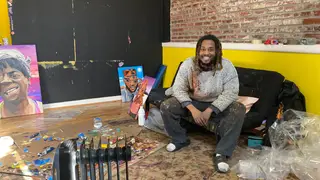 Alim Smith is an artist who defies categorization but is routinely noted as an Afro-surrealist. Delaware-born, yet forever Black — Smith's work has been exhibited across American art galleries, most recently in Los Angeles where his Family Reunion exhibit ran the last week of February and showcased some of the most iconic Black memes created to date.

Smith created 25 oil paintings that blended his eye for the fantastical (see: Kayode Ewumi, Conceited, and Kalin Elisabeth below) with his knowledge and understanding of self and how Blackness is blossoming anew all over the world. Having drawn inspiration from the Dutch graphic artist MC Escher, Smith has really captivated attention with his latest work on the official poster art for FX's Atlanta.
RELATED: Donald Glover's 'Atlanta' Will End With Season 4 On FX

Returning on Mar. 24 for Season Three, Atlanta is the highly anticipated spring dramedy that also defies definition- although it is often compared to Twin Peaks. Led by Donald Glover, Zazie Beetz, Brian Tyree Henry, and LaKeith Stanfield, Atlanta is known for integrating multiple aspects of surrealism into its humor.

BET.com was able to grab a quick moment with the rising artist to talk to him about the power of Black memes, working on the art with Donald Glover, and more.
---
BET.com: When it comes to your art — can you share any inspiration outside of Barack Obama's 2008 Presidential Inauguration that energized your creativity?

Alim Smith: My art has taken me on so many different journeys. I sold some prints shortly after [President Barack Obama's] inauguration that I began to challenge myself to do things differently than the way I thought he would [while in office.] I got into a whole bunch of conscious reading involving Moors and spiritualism. I even created a page called "Moor Imagination." I began to shift my focus on making art about historical Black figures and icons that had little-to-no images made of them.

I then started to become super-active on social media because before I wasn't really on it like that. I noticed that people responded well to my "Moor Imagination" series, so I made a Black History series based on all the people who influenced me in the '90s when I was growing up. This was as opposed to those who you'd always see on posters and stuff. From there it started to catch people's attention and then they just never slowed down.

BET.com: For your Los Angeles exhibit, Family Reunion, were there any surprising reactions or first impressions that were shared with you during its run?

Alim Smith: When Family Reunion premiered I didn't know how it was all going to look in the actual venue until the day of. Once I'd seen it and how it was set up like a maze or a labyrinth — the pictures were scattered all throughout with beautiful lighting on them — I knew it was going to be crazy. And it absolutely was [laughs].

Everybody showed me so much love [and] it was a beautiful event. During my time in art school, I realized how boring art was [being taught to me.] I love it when I can make something that can make people giggle or just have any kind of positive emotion since art can be so boring.
BET.com: Why memes? What was it about the power of Black memes that gravitated toward you?

Alim Smith: [Laughs] What was it about memes? I was dating this girl in 2016 and she worked at a museum. She would say, 'You know a picture is a good picture if people can stare at it for more than 60 seconds,' which I felt — and still do — that most art doesn't get that much time. People just look at it and keep walking. While I was on Facebook I noticed just that, which was not one single art piece, as they couldn't compete with memes.
They were getting the most attention, the most shares, the most retweets and everything. I thought that I might as well paint memes because now I get tons of work, and my crazy ideas have begun to really grab people's attention.
BET.com: What would you say to critics who call your style of creation "Black pop art"?

Alim Smith: Part of me feels like you don't have to include the "Black" because I want what I create to be featured amongst all artists. Then there's another part of me that says keep the "Black" on there because I want to do things that would be considered being dope. While "Black Art" is just another genre [to me], it isn't going to stop any artist from being wildly successful or influential with their work.

The idea behind art being or not being Black is not necessarily limited. We just have to do more than the average because critics are going to classify what's done as Black art anyway — as long as you're Black while doing it. 
Alim Smith: Yes! I was actually annoyed because other articles would say things regarding "Picasso-esque" style, but that's not true. In fact, I was more interested in MC Escher because his optical illusions are very weird. My art background is diverse, too, which was not delved into in previous pieces. My uncle, who was an artist, used to show me how to burn pictures into wood using a magnifying glass. He'd make these crazy little African sculptures, necklaces with doll hairs in them, and just dream up these wild pieces.

I was completely obsessed with his African masks. When I found out that [Pablo] Picasso was greatly influenced by African art, I was happy as it resembled work by my family. I didn't look at Picasso trying to make anything similar, it was more inspired by my Uncle Lim and his love for masks.
BET.com: Despite discovering your work via Family Reunion, to also learn that you're behind this poster art for Atlanta Season 3 is impressive. How did you connect with the team behind the series to have this opportunity?

Alim Smith: My traditional approach to art is guerilla in its approach. I'm usually going to pop up randomly to places and sell prints. From there I'll just keep reinvesting in myself and the supplies, which would lead to people reaching out to me for more, which is what happened with the Atlanta thing. I got a random email from a group that work on a lot of advertising.

They asked me if I'd be interested in working on Atlanta, and I was like, 'Of course!' I've been a fan of Donald Glover since I was in high school and to work with him and his process, I was not ready for [at the time], but I'm ready now. I had done over 300 re-edits from August to February before I could even start painting.
Every day, I'd get calls to edit or change something, just imagine it and do it in a million different ways. [Laughs] I'm so sick that I can't share how many other ways it could have gone, but the final project came out really dope. Initially, I had to audition to even become the artist to do it, so that was really stressful, too.
BET.com: Were there any direct conversations between yourself, FX, Donald, or his team, Royalty? If so, how did the back-and-forth go?

Alim Smith: There was a point of contact between FX and Donald [Glover]. Before I could paint anyone, they all had to approve of their likenesses. They were particular about the clothes. I can see why they were, which was a good note, but they also evolved the way I think about how I approach drawing — especially clothes.

The most positive takeaway that I could note was learning how teams operate in that space, how to plan with arts and surprise drops, and deciding which projects I want to work on. Even with how planned out this [poster art] was, I had to really work out what this was going to look like.

I had to paint one image of Donald, two of LaKeith Stanfield, three of Zazie Beetz, and two of Paper Boi [Brian Tyree Henry]. Everything up to that point of painting was digital, and I had to paint everything in layers. All of the portraits were done as separate layers, then I had to paint the icons in the background, which was like 10 different ones for them to choose from.

And then I had to paint three different backgrounds. Overall, it was definitely over 20 paintings made altogether. I was going nonstop for six months and it is a perfect lay-up as the show premieres on my birthday, which is also Mar. 24! I went to the pop-up they had in Austin for SXSW, but I have no idea the direction the show is going in. [The cast] being in Europe already sounds like a bizarre trip to go on, but because it's a whole new world for us to watch, I'm super excited to watch Atlanta — especially on my birthday.
BET.com: Can you speak about your journey to better health? And what does Soulja Boy have to do with that and your belief in yourself?

Alim Smith: Yes! Soulja Boy, the G.O.A.T. Thank you, Soulja [laughs]. When I was 17 or 18, I was diagnosed with epilepsy, randomly, better known as juvenile myoclonic epilepsy. It's like when you fall asleep in class and you suddenly jerk yourself away, which is not what I have clinically, but that's basically what it's like. If I didn't get enough sleep I'd have some tremors when I'm waking up.
Because I got diagnosed at an early age and it could be triggered by anxiety or lack of sleep, I decided it wise not to go to art school because I didn't want to place so much stress on me. I could have a grand mal seizure dealing with all that goes into being a college student, so, I thought I'd do this on my own terms — because I felt if I went to art school, I'd die.
I've been able to balance my work-life by focusing on alternative medicines, going vegan, slowing down, and changing my mindset outlook when it came to being diagnosed. I was always wildly anxious, so taking care of my health has been the most important to me. And for those like me who are artists, it is important for us to move around, be healthy, exercise, and just lock in on staying active so we can keep doing whatever we want creatively.
---
Season 3 of Atlanta is scheduled to premiere on FX with the first two episodes on Thursday, March 24th, 2022, at 10 p.m. ET.
Kevin L. Clark is a screenwriter and entertainment director for BET Digital, who covers the intersection of music, film, pop culture, and social justice. Follow him on @KevitoClark.