Director Dee Rees on Same-Sex Love in Bessie: 'I Wanted to Show a Loving Relationship'
Starring Queen Latifah as the blues icon, the film breaks down barriers.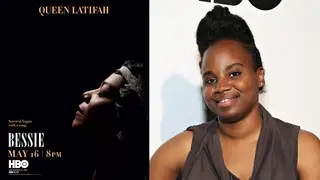 If you've never heard of Bessie Smith, HBO is airing the highly anticipated biopic Bessie this Sunday, May 16, which stars Golden Globe winner and Oscar nominee Queen Latifah. Complicated, ballsy, passionate and ferocious, the biopic is a long time in the making and Latifah tackles Bessie Smith with all her might. Packed with an all-star cast, the movie includes Michael K. Williams, Tika Sumpter and Mo'Nique as another blues queen, Ma Rainey. 
Written and directed by Dee Rees, known for her groundbreaking film Pariah, the Tennessee native talks to BET.com about the blues icon, Queen Latifah, same-sex love and more.
When did you first hear about Bessie Smith?
When I was a kid, my grandmother used to play Bessie Smith records. Also, there was this '70s vaudeville tribute album, it wasn't Bessie but it was people doing covers of Bessie and Ma Rainey. My grandmother introduced me to her. Plus, the idea that she's from Tennessee and I'm from Tennessee, I felt this kinship — a Tennessee woman. She's always been in my consciousness.
There isn't a lot of information on Bessie Smith, we don't even know her exact birth date.
Exactly! In starting the research, even her birthday is disputed. It came down to a census, whether or not they got it right, we don't know. The most challenging part was finding Bessie's voice. I went back to her songbook and tried to find the songs she wrote as a way to get into her psyche. The hardest part was reconstructing her own voice and not Bessie as other people saw her. In researching, I used text from women because I didn't want a guy's perspective. I didn't want a white guy's perspective on Bessie. I really wanted to look at the source, look at the times and try to ensemble her through the things that she touched, like relationships.
I love the film's handling of sexuality and drag. This is a time before an LGBT movement and LGBT identities, as we know it today. For you, what does the film say about sexuality?
To me, it says that it's fluid. She loved women, she loved men — this open secret, like Ma Rainey performed in drag. You had buffet flats, which were known as queer spaces for Black people who couldn't go to white clubs. They rented out an apartment and they'd have a huge party where people could be who they wanted to be and love who they wanted to love. In some ways, people seemed freer then than they are now. Ma Rainey had songs about lesbian women. Bessie Smith had lyrics about gay men and women in a nonjudgmental way, it's just a statement. There was a song named "Sissy Man Blues," just the fact that they named a song that is radical. Bulldagger, sissy — whatever. Pejorative terms, maybe, but from these women the terms weren't meant in a derogatory way. Just think about all the artists from the Harlem Renaissance, many of them were from the community before there was a name for it.
There is some girl-on-girl affection in Queen Latifah and Mo'nique's roles. Do you think we are at a point in our culture where a film with two Black women kissing won't terrify or anger people?
I hope so because they do it in such an easy way. I wanted to show it as a loving relationship and not scandal. I think the way the characters are performed, so beautifully, I think [the audience] will get that it's loving, sensual, positive relationships. People should be able to watch it and not feel turned off at all because it's not gimmicky, it's authentically done.
You don't show Bessie Smith's death in the film. Why?
That was a choice. We filmed the journey with this woman. We've seen her get knocked down repeatedly and get back up. I wanted to give her the win. I wanted to end on a hopeful moment. I wanted to show to the very end that she was reaching and evolving. I didn't want to end on a note where she wasn't in charge of her future. I wanted to end on a moment where she was heroic, not tragic. The one thing people do know about Bessie Smith is the car accident. I don't want to tell people what they already know, I want to tell them the thing that they don't know. We're talking about her today not because of the car accident, but because of all her work.
In a beautifully shot scene, Queen Latifah is naked for the first time ever on screen. Was she nervous or concerned to do that scene?
I am sure she was nervous but at the end of the day, she did it. We talked about why it was necessary. I was just honored she would trust me enough to go there and trust me enough to see the artistry of it and to see why it was important to Bessie's character. At the end of the day, Latifah is completely immersed in the character. She's Bessie.
Can you sing the blues and not live the blues?
I don't think so... no matter what suffering is for you or no matter what feeling lost is for you — that is a kind of blues. You sing from things being lost. You sing from being in love. You sing from a point of being afraid. All of those emotions. I think everybody experiences the blues.
They always say, "The blues is a good woman feeling bad."
Yeah, I think the blues is a lot of things. I think it's the thing inside of you that can't quite express.

BET.com is your #1 source for Black celebrity news, photos, exclusive videos and all the latest in the world of hip hop and R&B music.
Click here to subscribe to our newsletter.
(Photos from left: HBO, Cindy Ord/Getty Images for HBO)