Texas Governor Accused Of Targeting Black-Run Cities With Migrant Bussing
Greg Abbott's actions are 'morally bankrupt' and inhuman, says NYC Mayor Eric Adams.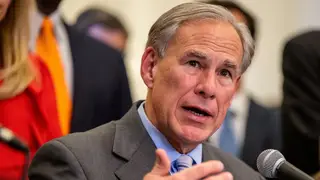 New York City anticipates a price tag in the billions through the end of the 2024 fiscal year to pay for the care of asylum-seekers bused to the Big Apple from border states. But the city's leadership is saying that's because of an adversarial move from another state on racial lines.
News Monday (May 1) that Texas plans to resume sending migrants to the city ignited a political fuse, prompting New York City Mayor Eric Adams to accuse Texas Gov. Greg Abbott of inhumanity and targeting Black-led cities.
"Not only is this behavior morally bankrupt and devoid of any concern for the well-being of asylum seekers, but it is also impossible to ignore the fact that Abbott is now targeting five cities run by Black mayors," Adams said, adding, "Put plainly, Abbott is using this crisis to hurt Black-run cities," according to Politico.
Abbott's spokesperson dismissed Adams' remarks, saying that cities with liberal migrant policies have no good reason to complain.
"Mayor Adams, along with Mayor Bowser, Mayor Lightfoot, and Mayor Kenney, were proud to tout their self-declared sanctuary city status until Texas began busing migrants to New York City, Washington, D.C., Chicago, and Philadelphia to provide relief to our overrun and overwhelmed border communities," the spokesperson said, according to Politico.
New York, which has millions of residents, is only experiencing a tiny bit of what small border cities deal with every day, the statement said.
Abbott's spokesperson added, "The real crisis isn't in New York City—it's on our southern border, where President Biden's open border policies have allowed record-high levels of illegal immigrants, deadly drugs like fentanyl, and weapons to surge into our state and country."
But Adams unveiled the city's new fiscal year budget figures on April 26. At $106.7 billion, it will be the largest budget in the city's history, blamed in part on the high cost of paying for the ongoing wave of bused asylum seekers, NYC station WABC reported. The city must bear a huge financial burden even with state and federal contributions to offset the costs.
Without advance notice, more than 57,000 asylum seekers arrived in the city from other states last year, with more than 35,000 of them remaining in the city's care. Another 500 arrived on April 25. City officials anticipate paying about $4.3 billion to provide food, shelter, clothing and other services to the migrants by the end of June 2024.
Meanwhile, Chicago Mayor Lori Lightfoot sent a letter on April 30 to Abbott urging his administration to "stop the inhumane and dangerous action" of bussing migrants to Chicago.
In September 2022, Washington, D.C. Mayor Muriel Bowser declared a public health emergency after waves of migrants continued to arrive in the nation capital from Texas and Arizona. At that point, Texas had sent more than 7,900 migrants to D.C., more than 2,200 to New York City, and more than 300 to Chicago.