Black Mayors For NYC, L.A., Houston Say Public Safety, Homelessness Are Biggest Issues
'It's a moment for us,' says Mayor Eric Adams about this historic time.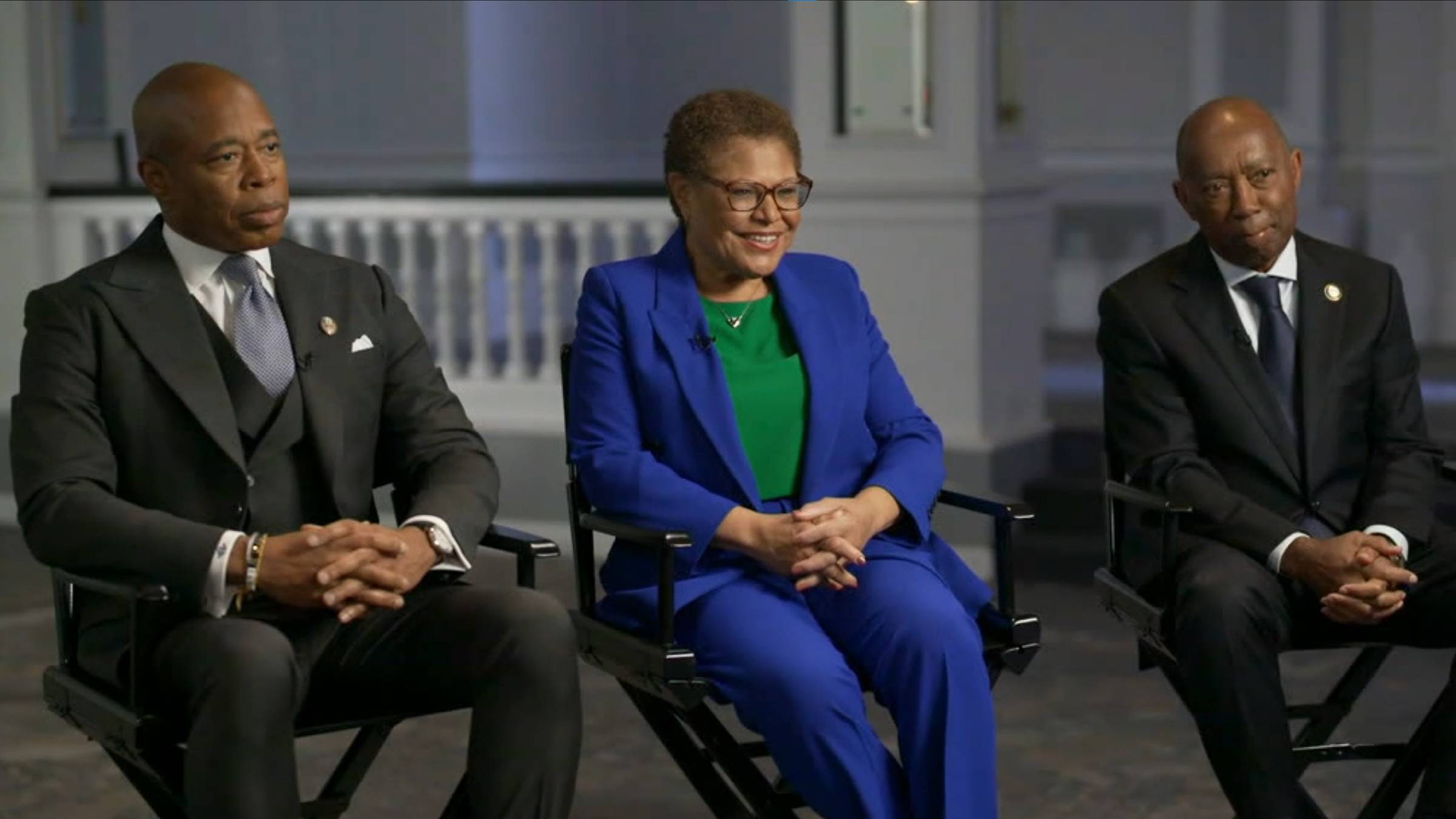 For the first time, Black mayors are at the helm of the nation's four largest cities – NYC, L.A., Chicago and Houston – navigating toward solutions to complex challenges.
"It's a moment for us. It's a moment that we are now really going after those tough challenges and historical problems that we fought for many years to be in the driver's seat," New York City Mayor Eric Adams told Jonathan Karl on ABC News' This Week at the recent annual gathering of mayors in Washington, D.C.
Finding a solution to L.A.'s homelessness crisis is the biggest challenge for Los Angeles' newly-elected Mayor Karen Bass.
She said homelessness is a complex issue at "the intersection of income inequality and also public safety," adding that income inequality is "severe" in her city and has resulted in "47,000 people [sleeping] on the streets in tents, every night, in the city."
Los Angeles is far from alone. In July, The Washington Post reported that shelters across the nation reported a sudden increase in people searching for help, as inflation left them struggling to pay for basic needs.
In New York City, 102,656 different homeless adults and children slept in the city's shelter system, including 29,653 homeless children, during fiscal year 2022, according to the Coalition for the Homeless, New York-based nonprofit.
Adams and Houston Mayor Sylvester Turner said public safety is their No. 1 challenge. In 2022, New York City saw a 22 percent increase in crime compared to the previous year, NY1 reported. But the crime data also showed an 11.3 percent drop in homicides year-over-year, a decrease from 488 in 2021 to 433 last year. Adams, a retired NYPD captain, campaigned for mayor as a tough-on-crime Democrat.
In February 2022, Turner announced One Safe Houston, a $53 million program to help combat the city's rising crime, KTRK reported. "Since the beginning of the year, our city has felt anything but safe," Turner said at that time.
By the end of the year, Houston Police Department data showed that overall violent crime decreased 8 percent and the murder rate was down 9 percent compared to 2021, according Houston Public Media. Turner touted One Safe Houston as a success.
In 2020, some social justice protesters flooded city streets nationwide to urge lawmakers to "defund the police," a slogan used to call on local governments to redirect police funding to community reinvestment. The murder of George Floyd by a now-convicted former Minneapolis police Officer Derek Chauvin ignited the movement.
Karl asked Bass why she has called defunding the police the "worst slogan ever."
"What I believe is that over time, especially the federal government, state and cities have divested, defunded social services," Bass said. "So I think when a person goes into the academy, they don't go in to address homelessness, addiction, mental illness. And so we need to refund our communities, build out the social safety net so that people don't fall into crime."
Adams said the migration crisis is another major challenge that has put a strain on his city's resources, as well as the resources of Chicago and D.C. In September, Washington D.C. Mayor Muriel Bowser declared a public health emergency after the governors of Texas and Arizona began bussing waves of asylum seekers to the so-called sanctuary cities.
Politico reported that approximately 40,000 migrants have arrived in New York City from the southern border since last year. "There's no more room" them, Adams said at a virtual interview Jan. 18 at the mayors' annual conference, adding, "we're at that point."
Turner and Bass sympathized with Adams over the issue and sharply criticized Texas Gov. Greg Abbott, a Republican, for using the migrants as political pawns. Abbott has said he wants cities that protect undocumented immigrants to understand what border states are experiencing.
"This should not happen to any city in America -- El Paso, Houston, Chicago, New York, Washington," Adams said. "This is a national problem and our national government, Congress and the White House must do a long-term, comprehensive immigration policy. But the White House must deal with the immediate emergency we have now."