Adidas Drops Teyana Taylor After Rihanna Feud
A nasty virtual catfight led to Taylor's dismissal from the shoe brand.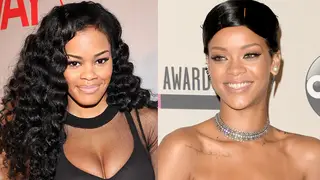 If you've ever questioned if engaging in petty feuds on social media can come back and bite you in the butt, just take a look at Teyana Taylor's sad situation. The G.O.O.D. singer was just dropped from her second collaboration with Adidas because of her Twitter spat with Rihanna back in September.
The feud started when Taylor posted an Instagram video of her singing Anita Baker's "Caught Up in the Rapture." Rih Rih then decided to post another video of her stylist Yusef in a snapback cap and curly wig singing the same song in an over-the-top fashion. The two then took to Twitter to slander and curse each other out with Taylor writing, "Don't let twitter get you F----D UP!!!!" before posting a photo of boxing gloves and Rih Rih's bruised face after her altercation with then-boyfriend Chris Brown in 2009.
Well, turns out the public petitioned the shoe brand to let Taylor go after seeing how the virtual cat fight played out and Adidas agreed.
"We have ended our relationship with Teyana Taylor and do not have any upcoming product launches with her," a senior PR manager said.
"All I can say is that adidas partners with athletes and artists who blend well with our brand values. We evaluate our relationships with partners based on the values we hold at adidas and we don't condone violence of any kind," the rep added.
Taylor's first Adidas shoe, the black and gold high-top Original Harlem Good Luck Charm, was such a hit that the brand signed her on for a second design to be released in November. Unfortunately, that never happened, but hopefully her talent gets scooped up by another brand and Taylor curbs her need to stoop and defend herself from the mean girls.
BET.com always gives you the latest fashion and beauty trends, tips and news. We are committed to bringing you the best of Black lifestyle and celebrity culture. 
Click here to subscribe to our newsletter.

(Photos from left: Stephen Lovekin/Getty Images for BET's Rip The Runway, Jason Merritt/Getty Images)