DOJ Launches Federal Civil Rights Investigation Into Shocking Arkansas Arrest Caught On Camera
Randal Worcester's head filmed having his head being bashed into the concrete.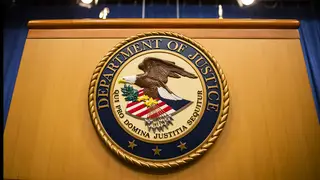 The Department of Justice has reportedly opened a federal civil rights investigation into the violent arrest of a 27-year-old man in Arkansas that took place on Sunday (August 21).
A department spokesperson confirmed to CBS News on Monday that the investigation will be separate from the state probe into the arrest. Video of the encounter shows three officers repeatedly hitting Randal Worcester of Goose Creek, South Carolina.
One officer is seen repeatedly striking the man with a closed fist while another knees him several times in the lower body. All officers are also seen slamming Worcester's head into the pavement.
According to Crawford County Sheriff Jim Damante none of the three officers were wearing their own body cameras but a Mulberry police officer's vehicle was equipped with a dash cam.
"The dash cam does bring to light other things that did happen there that initiated, that wasn't caught on the citizen's camera," he noted.
The three officers, who have been suspended over the arrest, have been identified as Crawford County Sheriff's Office deputies Zach King and Levi White and Mulberry police officer Thell Riddle, according to CBS News.
Unlike many similar cases, in this one the victim is white. Civil rights attorney Benjamin Crump commented on Twitter about it.
Authorities say the incident began after the officers responded to a report of a man making threats outside of a convenience store on Sunday in the town of Mulberry. Damante claims Worcester was identified as allegedly making "terroristic threats" against a gas station employee.
Worcester then allegedly threatened to cut the employee's face off and then left to bike about seven miles away prior to officers catching up with him. Damante claims Worcester surrendered a knife to the officers and then tackled one of the deputies and punched him in the back of the head. The violent arrest was captured on video after the alleged struggle.
The sheriff's office is reportedly conducting an internal investigation in addition to the Arkansas State Police's criminal investigation and the DOJ's federal investigation.