Charmaine Bey Introduces The World To Her Newborn Daughter: 'I Gave Birth On My Heavenly Mother's Birthday'
The 'Black Ink Crew: Chicago' star shared the first photos of Baby Charli!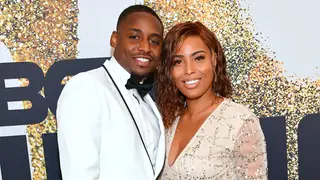 Charmaine Bey gave birth to her second child with husband Neek Bey over the weekend! Keep scrolling to see the Black Ink Crew: Chicago star's heartwarming birth announcement, along with the first photos of the newborn baby girl.
After documenting her pregnancy for nearly 10-months, Charmaine happily announced the birth of her daughter Charli on February 12, 2022. The date holds a huge significance for the reality star as it was the birthdate of her late mother, who passed away back in 2019.
"I can't believe I gave birth on my heavenly mother's birthday," Charmaine captioned the first photos of Baby Charli. "Greatest gift God could give me. Showing me that my parents still have their hands in everything involving my little family."
In the hospital images, Charmaine flashed a smile as she held her newborn baby girl in her arms. Neek seemed equally as excited about the birth of his daughter. "The Bey's are healthy and happy," the couple shared, along with an up-close look of their newborn. 
Hours before giving birth, Charmaine posted a sweet throwback photo of her mom. "Happy Birthday to my mom!!! She would have been 65 today 🕊I've spent all morning thinking of my best memories with you. You are the best angel. What could be the best gift I could give my beloved mommy today?"
We'll answer that question…a new grandbaby! Aww, what a blessing.
Join us in wishing the Bey family all the best in their growing family!