Disney Releases Trailer for 'Wish' and The New Princess Has Braids
Academy Award-winner Ariana DeBose will portray the first Afro-Latina princess.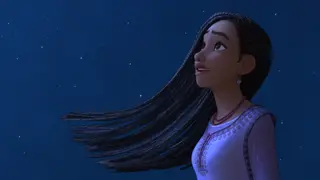 The trailer for Disney's latest animation film, Wish, is here, and we're already in love with the leading princess, voiced by West Side Story Academy Award-winning actress Ariana DeBose.
The musical follows the story of Asha, a 17-year-old  "driven, incredibly smart and an optimist, a sharp-witted leader in the making who sees darkness that others do not." She partners with the magical wishing star, named Star, and soon realizes sometimes dreams do come true.
DeBose will be playing Disney's first Afro-Latina princess sporting the prettiest set of braids.
She made history as the first Afro-Latina and first openly queer woman of color to win an Academy Award for acting after taking home the win for "Best Supporting Actress" for her performance in the iconic role of Anita in Steven Spielberg's West Side Story.
The studio elevated its creativity using a new style of animation technique, which blends elements of watercolor with 3D CG animation that the studio had reportedly long sought after and even attempted in earlier films such as Tangled.
The film also stars Chris Pine as King Magnifico, the charismatic leader of the kingdom of Rosas, and Alan Tudyk as Asha's pet goat Valentino. Frozen's Chris Buck and Raya and the Last Dragon story artist Fawn Veerasunthorn is set to direct. The film hits theaters on Nov. 22.
You can watch the first trailer for Wish down below.