Why I Serve: Maurice Owens, Special Assistant to White House Chief of Staff
Maurice Owens, special assistant to the White House chief of staff, shares his journey to the White House and giving back.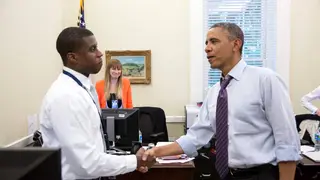 At age 4, Maurice Owens, special assistant to White House chief of staff Denis McDonough, moved from sleepy Greenville, South Carolina, to the mean streets of the Bronx, New York. The lives of children in his neighborhood, Owens said in an interview with BET.com, formed a circle that was encompassed by the neighborhood school, community center, basketball court and home. They often formed lifelong bonds, but didn't always stay on the same path. And, as is the case in most urban communities, some took tragic detours.
But Owens' mother was a woman with a plan. The single mother of three didn't have a lot of money, but used the resources she did have to great advantage. As the assistant director of the neighborhood community center, she was able to get him into out-of-zone schools in the Bronx, beginning with elementary school in a predominantly Italian neighborhood and then a private Catholic high school.
Owens, now 35, learned that he could not only survive outside of his circle, but could also succeed. He and his two best friends, whom he left behind each morning, would share stories at the end of the day, "but I saw them gradually fading away" from the goals they'd set for themselves.
"They both ended up in trouble, and in and out of jail. They're great men now, but it wasn't the best path to get to where we are now," he said.
Even back then, Owens understood that the routine of getting on a bus each morning protected him from the kinds of distractions that can get a good kid into trouble and cause goals to fall by the wayside on the walk to school. When the time came for him to go to high school, his mother found a sponsorship program that enabled low-income students to attend the Catholic school by pairing them with a sponsor/mentor from New York's business community.
Owens' mentor was John Barakat, a Goldman Sachs banker with whom he also has formed a lifelong bond. Exposure to Barakat's life on Fifth Avenue and that of the veritable United Nations that formed half of his basketball team at Furman University, ignited in him a desire to see the rest of the world. He also wanted to give as he had received.
"I wanted to do something bigger than me, serve my country and continue my education," said Owens, who joined the Air Force after graduation. He is now an Air Force reservist.

The Air Force enabled him to develop information technology skills and hone them in Japan, Qatar and Iraq, where he worked as a network administrator. Iraq was eye-opening and, as would be expected, hair-raising because of constant mortar hits.
"You don your gear and go to seek cover every single day, but you also lock in and block all of that out because that's your day-to-day life for the time that you're there," Owens said.
Seeking more control over his next stage in life, Owens applied for a position in the White House Communications Agency. He figured that if hired, his duties would involve supporting the White House from an off-site location. To his surprise and delight, he was assigned to work at 1600 Pennsylvania Avenue, starting off as a network systems maintenance and audio-visual technician under George W. Bush and as a Situation Room communicator under President Obama.
Since February 2013, Owens has served as McDonough's special assistant, which entails executing special projects and assisting with the office's day-to-day operations.
Every now and then, President Obama passes through, greeting him with a "What's up, Moe?"
Unofficial duties involve mentoring kids who come to the White House through the many programs and events sponsored by the president and First Lady Michelle Obama for students from inner-city neighborhoods.
Recalling an event during which the first lady hosted a group of students from Chicago who'd lost many friends to gun violence, he said, "I told them about [my path] to the White House, which essentially began where they were — in an urban area with a lot of shootings and things you don't want to experience growing up," he said, letting them know that they can and should expect more from life. "And after telling my story, they actually opened up and started telling their stories."
By getting them to open up, he and the young White House visitors also open the eyes of influential members of Obama's cabinet and other administration officials about what life is like for inner-city kids growing up in difficult circumstances. More important, it reaffirms their commitment to address the issues plaguing their troubled communities.
His own background makes him grateful for the opportunity to "get a bird's-eye view and be a fly on the wall" in an historic administration.
"I step out of myself and look back in pretty much every day and am still living the dream," he said. "This is something I would never have imagined for myself — I grew up in the Bronx. Not too many people [from there] can say they went into the Air Force, then to work inside the White House and change jobs within the White House and travel to more than 30 countries. Every day I count my blessings and know that things could have been different."

BET Politics - Your source for the latest news, photos and videos illuminating key issues and personalities in African-American political life, plus commentary from some of our liveliest voices. Click here to subscribe to our newsletter. 
 (Photo: Pete Souza/Official White House Photo)