The Internet Explodes With Sad But Hilarious Memes After 'Popeyes' Discontinues Viral Chicken Sandwich
R.I.P. Spicy Chicken Sandwich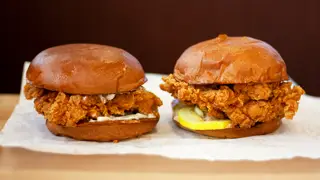 UPDATE: On Tuesday (Aug. 28), Popeyes announced is officially sold out of their infamous chicken sandwiches and are temporarily removing the item from their menu. While the news is devastating, especially for those who didn't get a taste of the viral sandwich from the Louisiana fast food chain, there were still plenty of hilarious memes to go around!
On Aug. 12, Popeyes Louisiana Kitchen ignited a foodie firestorm when they announced the newest item to their menu: a spicy fried chicken sandwich served up on a buttered brioche bun with pickles.
Faster than French fries take to turn golden brown, social media erupted with excitement leading to timelines filled with roughly $23 million in free advertising that resulted in cars wrapped around drive-thru windows and customers waiting hours in line only to find the sandwich was sold out.
Coming at Chick-fil-A's neck on Twitter proved to be a genius marketing plan, although the fast-food brand cannot seem to keep up with the demand. (We're still waiting to get a taste — so frustrating!) 
While we continue to shoot our shot daily to get our hands on the chicken sandwich that has the Black Twitter raving, take a look at the hilarious memes that have us laughing the (hunger) pain away!
When Popeyes Annouces They're Out Of Their Spicy Chicken Sandwich 'For Now'...

Popeyes spicy chicken sandwich has everyone feeling some 'Type a Way'

Girl, stop playin'! You know what I'm here for.

Bruh, y'all wrong for this!

Shh...don't tell nobody!

Don't believe it? Just take a look at your timelines

Something ain't adding up...

The internet is undefeated!

Bring it on: who are you cheering for?

Here's exactly why this is the only beef we care about in 2019

LOL, we can't even begin to deal

Oh, no! Well, on that note...