Circus-Themed Ball Canceled After St. Petersburg's First Black Mayor Declines Invitation
Some local Black leaders found the theme and location demeaning.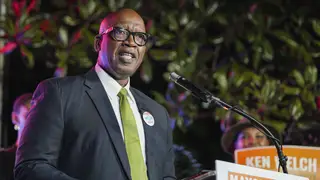 St. Petersburg, Fla., recently elected its first Black mayor, Ken Welch, who is expected to take office on Jan. 6. To celebrate the mayor-elect, the local Junior League planned to throw him a gala ball, as it has organized for previous mayors since 2006.
Welch, however, declined the invitation, the Associated Press reports. There are concerns that its circus theme was racially insensitive and demeaning.
Some of the images used to promote the "Under the Big Top" theme included a black pelican with a top hat. Local Black community leaders rejected the theme, noting that the once racially segregated city prohibited Black people from attending the circus.
"He has nothing to do with a circus, clowns, animals," said the Rev. J.C. Pritchett, president of the Interdenominational Ministerial Alliance. "He's a gentleman. A kind gentleman and a public servant."
The pastor also took issue with the proposed location. Previous galas were held at the upscale Coliseum or Mahaffey Theater. Organizers of the event for Welch planned to use a venue called the Factory, located in a warehouse arts district, that has outdoor space.
"For us to have the mayor's ball in a warehouse and a parking lot is unfitting," Prichett explained.
Junior League spokeswoman Lisa Brock defended the circus-theme idea by noting that the previous event was based on the Wizard of Oz. The concept was "There's No Place Like St. Petersburg."
Welch said the situation created an opportunity.
"The diversity of St. Petersburg is our most incredible strength and our community events must be inclusive and representative of all who live here," said Welch about the city, which is predominantly white.
Brock said the Junior League was disappointed that the mayor-elect declined the invitation. As a result, the organization added a diversity, equity and inclusion board position.