Naomi Osaka and Cordae Reveal the Sex of Their Baby
The tennis champion and rap star are expecting their first child together.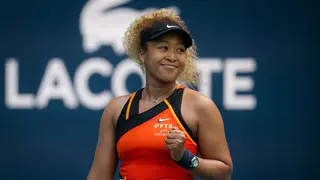 Four-time Grand Slam-winning tennis champion Naomi Osaka is expecting her first child with boyfriend rapper, Cordae—and according to a recent Instagram post, it's a girl!
The 25-year-old star shared the big reveal with her IG followers, which included photos from her baby shower.
The soon-to-be mom can be seen standing in the middle of a flurry of pastel pink and purple flowers and balloons and resting her arm on a giant pink mushroom prop, while a sign behind her reads, "A little princess is on the way!"
Cordae was photographed kissing Osaka's stomach in a Burberry shirt.
In a Feb. 21 interview with People, Osaka said she knew the baby's sex in advance but didn't reveal it to Cordae immediately. "I've been preparing, but he doesn't know the gender yet, only I know," she said, adding, "So it's not like I can build out the room or anything."
She continued, "I'm just kind of winging it. That's kind of the key motto in my life a little."
Osaka recently launched several digital fashion designs with Meta—the parent company of Facebook and Instagram.
"Being able to take trends from the real world and translate into the metaverse was really fun," Osaka said in a press release, per People. "Plus you can try a lot of new things when designing digitally—it's all about pushing myself outside of the box."
"To me, one of the most exciting parts is that digital apparel is much more accessible than luxury apparel in the real world."
"I can dress my avatar in whatever I want—there's a lot more freedom and flexibility to have fun and experiment with looks and designs," Osaka, 25, added.
During her pregnancy, she also revealed that she has been wearing designs from her loungewear collection with Victoria's Secret.
"I've been wearing this a lot, almost every day. It's very comfortable, so I'm very glad about that," Osaka told People about the designs.