'The Best Man: The Final Chapters' Is The Perfect Holiday Treat
Binge-watch your favorite friend group as they continue their rollercoaster ride of life only on Peacock!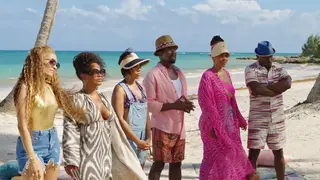 The Best Man: The Final Chapters is officially here! The limited series, which is based upon the eponymous Universal film franchise is currently streaming on Peacock and catches up with Harper (Taye Diggs), Robyn (Sanaa Lathan), Jordan (Nia Long), Lance (Morris Chestnut), Quentin (Terrence Howard), Shelby (Melissa De Sousa), Candace (Regina Hall), and Murch (Harold Perrineau)  as relationships evolve and past grievances resurface in the unpredictable stages of midlife crisis meets midlife renaissance.
In an interview with BET.com, Long gives fans some insight into what took place behind the scenes to get the series onto a streaming platform and emphasized knowing one's worth and value as an entertainer in the industry.
"We definitely got together and negotiated as a group because to me that was the only way to do this. We're worth it and we knew we were worth it. We wanted to have a collective voice and we wanted to support one another through the process," Long shared, speaking about the transition of The Best Man franchise. "As you grow and you mature and work in this industry, you realize that you have to put placement on your own value. Ask for what you know and what you want but it's [also] okay to ask for what you need!
The cast also teased what's to come in their respective storylines when it deals with love as well as grief and thanked their loyal fans and newcomers along the way. See below:
BET.com: Taye, it has been almost 10 years since fans have seen The Best Man cast on their screens, why do you both think it was so important to pick up where you all left off?
Taye: We've been around long enough where there are people that are our age and have grown up with us and then those people have then shown their kids. I'm proud that we have made history. Younger people have approached us and said: "Wow! You guys are classics."
BET.com: Melissa and Terrence, fans will see Shelby and Quentin's love story has some twist, turns and surprises in The Best Man: The Final Chapters. What advice if any would you give to folks who might be afraid to go after what they want when it comes to love?
Melissa: Be patient and never give up! They say if you love something let it free, I don't think it should ever be a battle. It will just come to you if it's right for you.
Terrence: When it comes to pure love, there's nothing greater than love and love is about faith! Faith is about stepping out on that place that doesn't make sense to anyone else, faith is that step out there and it's frightening but if you're going to love, you've gotta love completely and you gotta weigh the costs of it. It's going to cost you everything because love is nothing short of everything you are and I think when you love somebody you go and express that love. You may not get it in this lifetime but you'll get it in the next one.
Give your heart and be open to listening to somebody and actually listening to them and don't be afraid to say what you feel. Let them know before it's too late!
BET.com: Regina, What did you find to be the easiest and the most challenging when it came to filming The Best Man: The Final Chapters?
Regina: Working with the cast is always easy. Going to a new medium with Peacock, it wasn't difficult but it was different!
BET.com: Morris, viewers will see your character Lance going through his own grieving process in The Best Man: The Final Chapters following the death of Mia which took place in The Best Man Holiday. What advice do you have for those going through a similar situation when it comes to grieving the love of their life?
Morris: That's a tough question! Everybody grieves in their own way as fans will be able to see in the series. I can't really give people advice on how to grieve because grieving is just such a personal experience and Lance dealt with it in the best way he saw fit.
BET.com: Harold, The Best Man: The Final Chapters is streaming on Peacock, what would you like to say both loyal and new as they prepare for the series to premiere?
Harold: To the new fans welcome, we hope that you really enjoy the limited series! To the loyal fans, I saw welcome back and enjoy this ride because it's going to be dope. Thank you family!