Look: Scottie Pippen's Wife Drags Christian Laettner Over Debt Owed to Them
Consider this another reason to hate the guy.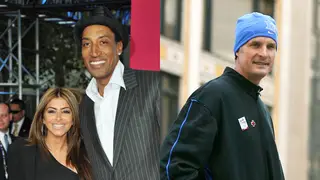 As if we needed another reason to hate Christian Laettner.
Scottie Pippen's wife, Larsa, took to her Twitter account earlier in the week, alleging that Laettner owes her and her NBA Hall of Famer husband major cheddar — to the tune of an estimated $600,000, as reported by TMZ Sports.  
And Larsa isn't playing games when it comes to collecting the Pippens' money.
According to TMZ, Pippen invested money to purchase a stake of the Memphis Grizzlies with his fellow Dream Team teammate, Laettner, but never got his money back.
Although Pippen was awarded $2.5 million in a lawsuit judgment against Laettner, he and his wife have yet to receive the full amount. Sources with knowledge of the situation say that remaining amount is at least $600,000.
Perhaps some public shaming by Larsa will help with recouping the rest of the money ... and soon.
ESPN needs to add this saga to its I Hate Christian Laettner 30 for 30 documentary on the former NBA baller.
BET Sports News — Get the latest news and information about African-Americans in sports, including weekly recaps, celebrity news and photos of your favorite Black athletes.