Van Hunt Says He'll Marry Halle Berry If He Wins An Oscar
The couple recently had the internet fooled at thinking they tied the knot earlier this year.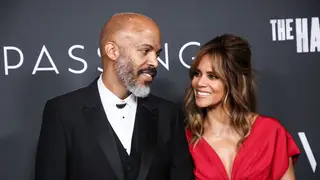 Van Hunt and Halle Berry might be headed down the wedding aisle soon but it will take an Academy Award win to seal the deal.
In an interview on The Domenick Nati Show, Hunt was asked about his budding relationship with the Bruised star and hinted at what will prompt them to tie the knot.
"Maybe after 'Automatic Woman' is nominated for an Oscar and wins," Hunt jokingly said.
Hunt, a Grammy Award-winning musician/producer, created the song "Automatic Woman" with artist H.E.R. behind the mic for Berry's Netflix film Bruised. The track made the shortlist for the Original Song category for the Oscars with official nominations to be announced on Feb. 8, according to Deadline.
"It's a short-list Oscar-nominated song that could be H.E.R.'s second win in a row," he continued.
In case you missed it, the couple had the internet shook when Berry made an Instagram post on New Year's Day that looked like the couple had said: "I Do."
Hunt also took a moment to clear up the IG post saying the pair was just having some lighthearted fun.
"We were just teasing. Trying our very own January Fool's Day," he said.
Berry and Hunt have been together since Sept. 2021.
Watch his full interview on The Domenick Nati Show below: