Jesse Williams Just Created The Blackest Trivia App Ever
He did it for the culture!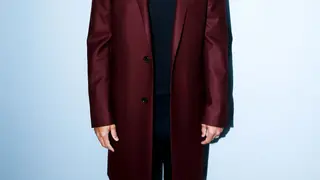 Everyone can honestly admit that Jesse Williams is a great force in the social activism space, but what some may not know is that is also is just as powerful in the tech world. Combining his passion for our Black culture and his creative mind, he has brought us some actual cool stuff. 
It all started with Ebroji. In the wake of everyone from Kim Kardashian to Blac Chyna to Joanne the Scammer creating their own emoji keyboard, Jesse decided to take a tech-y dive in the app world to create something that included "us," all of us, and not just focused on one person like the others out there. Jesse told Black Enterprise, "[An app that] included our faces and bodies and we can use GIFs that have black/brown trends, gay/queer human beings expressing themselves. Expressing love, joy, passion, frustration, and it doesn't have to be overtly political. It's still political because we exist."
His most recent app, BLeBriTY, is by far something definitely for the culture, especially if you love hosting game nights. Available for just 99 cents, BLeBriTY uses a model similar to the games Celebrity and Heads Up to focus on Black culture. Genius!
Jesse discussed with Complex his frustrations with other games "excluding us" from the process and explained why the app was needed: "It's our culture, our trends, our language, our dances, our behavior patterns, our phrases, our aesthetic. And it doesn't become normalized or acceptable until white people do it, and we've already been ghettoized and dismissed." He goes on to say, "We're not part of the income stream, we don't own the companies, we're not employed at the companies, we just use them and make them relevant and topical. So we created a product that is joyful, that is fun, that does no harm, but that includes us." And Jesse, we thank you!
Now, don't get it twisted. The game is NOT just for Black people. According to actor, "This game is for everyone, it just centers around Black culture in a way that we've always had to be witness to otherwise." He adds, "We want everybody to play it. You're welcome to play it [if you're not Black] and if you know the answers, dope." Don't worry, you don't need a "Black card" to play folks. 
So far, the app has been doing extremely well. We are not at all surprised, especially with holidays just behind us. "We're overjoyed with the way people are responding because it makes them happy." And he sees bigger dreams for the app.
"We're gonna make Twitter, which ain't built for us, we'll create our own corner, our section over here to drive conversation. We always make our own area, but BLeBRiTY meets people where they are. So folks are really excited and, I think, surprised, because they're not used to being seen in that way."
To Jesse, this app is not just a cool way to get Black people laughing and reflecting together, but also to show young kids of color we have a place in the tech space too. "People pursue attainable goals, and we are opening young people's eyes to the possibility that they can do something in tech and they don't have to sell out to do it" he said.
If you haven't yet, check out the app for a good time with family, friends, or even that first date.