'Real Housewives Of Atlanta' Star Cynthia Bailey Might Consider A Move To Los Angeles
An appearance on 'Real Housewives of Beverly Hills' could be in her future.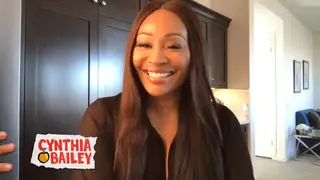 Cynthia Bailey holds a peach on Real Housewives Of Atlanta, but the City of Angels is calling her. 
Nonetheless, she has lost no love for Atlanta, "Nothing's like Atlanta. Atlanta is always going to be home. I don't think I will ever get rid of Lake Bailey — Lake Bailey on the Hill now." 
Lake Bailey is the name of  her house in Atlanta. 
Hill and Bailey have been spending most of their time in Atlanta. However, that could change, "It depends on what's happening with the world, but wherever we're able to really work is where we're going to live. ... It could be in L.A. later on, but for now we're spending more time here." 
That said, Bailey is open to appearing on Real Housewives of Beverly Hills with  Garcelle Beauvais, the first Black cast member. 
She said with a laugh, "Now, I'm still available to get on a plane. We have two homes. We have our home in Los Angeles and we have our home here in Atlanta. So I'm more than happy to go play with Garcelle, and the girls if called upon to do so."
Cynthia Bailey and Mike Hill tied the knot Oct. 10 before 250 of their closest friends and family at Governors Towne Club in Acworth, Georgia.
The thirteenth season of Real Housewives of Atlanta premieres this Sunday, Dec. 6, on Bravo.